Two Decades of Teaching Kitchen Program Design & Outcomes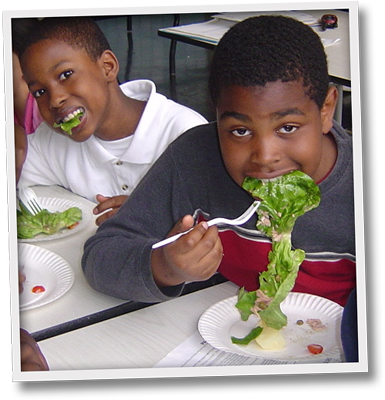 FamilyCook Productions is a non-profit organization with over 20 years of experience in developing effective nutrition education curriculum for all ages. A pioneering leader, our programs guarantee results because they go deeper, producing sustainable healthy behavior changes. We use a train the trainer model to embed hands-on nutrition education in schools, community organizations, WIC Centers, hospitals and other clinical settings. Our evidence-based and field-tested curricula has been replicated in over 300 sites across 30+ states, influencing over 310,000 youth and adults nationwide.
Cited by the New York Times for sustained outcomes and impressive weight loss, FamilyCook was selected as the New York State Public Health Association's 2017 Public Health Leadership awardee
Mission
To bring people of all ages together around delicious, affordable fresh food to positively impact their health and well-being.
We achieve this through:
Custom Teaching Kitchen program design for both treatment and prevention
Disseminating our evidence-based curricula to schools, community organizations, WIC centers and other clinical settings
Professional development for chefs, nutritionists, public school educators, community health workers, public health professionals and others to bring insight into the most powerful behavior-change drivers through tools and strategies with demonstrated results.
FamilyCook Provides:
Evidence-based hands-on nutritional cooking  curriculum for all ages that guarantees behavior change outcomes
Organic youth development through our scalable teaching kitchen specifically designed for teens, called  Teen Battle Chef
Professional development to deliver 'turn-key' programs for both health professionals and educators, as well as parents and community members with little culinary or teaching experience
Custom Teaching Kitchen program design for both prevention and treatment
Technical assistance and best practice consultation to enhance behavior change outcomes
Assessment of existing program to adapt our key levers of behavior change for your goals and audience
Common measures for collective impact
Strategies to shift the paradigm around 'kids food'
Recipes that are easy-to-prepare, flavorful and crowd-pleasing
Initiatives to increase access to healthy food, by pairing culinary-skilled youth with a bodega business model: CHEFS for Change