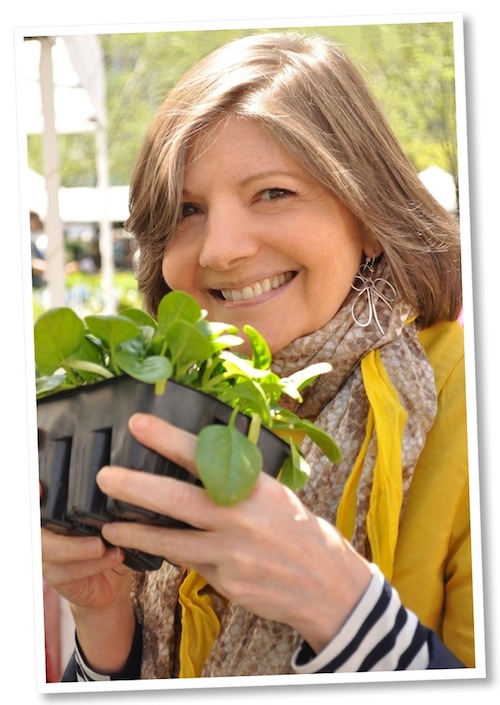 Lynn Fredericks, Founder
Lynn Fredericks B.A., founder of FamilyCook Productions, is an award-winning pioneer in the field of obesity prevention and family nutrition through Teaching Kitchens. She is the author of Cooking Time Is Family Time and Get Your Family Eating Right!  Since 1995, she has led the development of hands-on culinary nutrition education programs that have reached over 370,000 parents and children through program licensing and instructor training to hundreds of partner groups across the United States.  She has presented dozens of scientific abstracts on FamilyCook program efficacy at professional conferences and has published studies in peer-reviewed journals. In 2020 her original research on 10 Experiential Drivers of Behavior Change for Teaching Kitchen practitioners, a culmination of 25 years studying the best practices for achieving new healthy food habits, was published in a peer-review journal. Ms. Fredericks and her Teen Battle Chef program were honored in 2020 by SNEB with the Program Impact Award. In 2017 she was honored by the New York State Public Health Association as Public Health Leader of the Year.
Contact Lynn at lynn@familycookproductions.com about new partnerships, programs, and opportunities for your community.
Mercedes Sanchez, MS, RD, Director of Nutrition Education
Mercedes Sanchez has been FamilyCook's resident dietician for over twenty years. Her appreciation for celebratory meals prepared and enjoyed with family and friends hails back to her childhood as the youngest of 9 siblings in a robust family of Madrid, Spain. Today she is a registered dietician specializing in pediatrics and family nutrition. Mercedes grounds the FamilyCook nutritional messages, educational materials, curriculums, cooking and nutrition programs and approach in the values around the social and educational aspects of family meals. A mother of two, Sofía and David, Ms. Sanchez understands the challenges that working parents face to navigate a social environment that tempts adults and children alike to take the easy way out and buy fast or prepared foods. Ms. Sanchez wrote her masters thesis while at NYU on the value of a multicultural approach to teaching children about nutrition. Her thesis was excerpted for inclusion in an Italian journal on taste, Questione di Gusti. In addition to holding a Masters in Nutrition from NYU, she has served as a registered dietician in the pediatric department of Methodist Hospital in Brooklyn.

Anastasia Cabral, MS, RD, Teaching Kitchen Program Manager
Anastasia handles the daily business operations, including client relations and outreach, manages FamilyCook's social media platforms, and lends her expertise in the test kitchen, developing healthy, nutritious recipes for the whole family. Her experience includes recipe development, culinary nutrition, community outreach and social media strategy.
Anastasia is a registered dietitian from Brooklyn, NY. Her passion for nutrition was born in the kitchen, where she loves to whip up simple, creative, better-tasting meals, that just so happen to be better for you too.
Anastasia earned her Master of Science degree in Nutrition from Hunter College in New York, NY. She completed her dietetic internship at CUNY Graduate School of Public Health and Health Policy in New York, NY, during which she completed over 1200 hours of supervised practice in multiple fields of nutrition. It was during this time that she had the pleasure of interning with FamilyCook Productions and instantly connected with the organization's values and mission to connect people through fresh and wholesome food.
After completing her dietetic internship, Anastasia soon after became a registered dietitian. Through her professional career as a clinical dietitian who has counseled many diverse patients, she noticed one common major barrier to healthful eating – a lack of knowledge and skills around how to cook and prepare flavorful, balanced, and nourishing meals. Hence, these experiences further fueled her lifetime passion for culinary nutrition and she is gladly now back with the FCP team to show people of all ages and backgrounds that nutritious and delicious can coexist on the same plate.
Please contact Anastasia at anastasia@familycookproductions.com with general questions about FamilyCook's programs, program costs, social media, and upcoming trainings.

Stephanie Wright, Special Projects
Stephanie Wright's experience as an Ayurvedic chef, health counselor, culinary educator and recipe developer informs her work as the special projects manager and client management supervisor at FamilyCook Productions. Stephanie's passion for culinary education as a source of personal empowerment aligns with FamilyCook Production's mission to use the kitchen as a stage to create long-lasting behavior change.
A lifelong curiosity about the interconnectedness of food, health and wellness drew her towards studying Ayurveda, the science of life. Her Ayurvedic studies include a 300 hour yoga teacher certification at Laughing Lotus, an Ayurvedic Nutrition and Culinary Certification from Bhagavat Life as well as a 600-hour Ayurvedic Health Counselor Certification from Integral Yoga. In addition to working for FamilyCook Productions, Stephanie is a freelance chef, event producer and caterer in the Westchester and New York area.

David Bartolomi, Youth Development Director
David Bartolomi has over 25 years of experience in youth advocacy and human development as the Director of Youth Development at FamilyCook Productions. David oversees training and technical support for our Teen Battle Chef (TBC) program partners, nationwide. He brings passion, knowledge, and a deep appreciation of artisanal food, stemming from his rich family history of Italian chefs and bakers. His value for the importance of food is harmonious with the hands-on, celebratory philosophy of all our FamilyCook programs. As a program leader he focuses on building youth's confidence, critical thinking abilities, resourcefulness, and self-sufficiency. He believes that the skill development and sense of mastery that youth can gain from learning to cook can reveal their strengths and help unlock their potential. In addition, David was also a professional freelance photographer, whose work has been published in such magazines as Vogue, Vanity Fair, Newsweek and Boston Globe Magazine. David obtained his BA from NYU Tisch School of the Arts and continued his professional education in the field of Social Work at Hunter College.
Joel Allette, Teen Battle Chef Alumni & Internship Mentor
Joel Allette joined TBC as a HealthCorps student at James Baldwin High School in Manhattan. When he first joined he was highly interested in cooking and idolized such chefs as Emeril Lagasse, Michael Symon, Bobby Flay, and many other chefs of that caliber. After he graduated from the Teen Battle Chef program he went on to the Teen Battle Chef Leadership program and earned an internship at the Sylvia teaching younger children to cook. Within that year, he went on to win the 4Food "Veggiescoop" Recipe Competition. This led to his own recipe for Chinese Braised Kale on the 4Food Fall menu. As a TBC leader, Joel has hosted a number of Teen Battle Chef Competitions, Healthcorps events, and Whole Food Recipe Showdowns. His passion for TBC and the culinary arts is so strong that he was invited for a second TBC internship, at Jimmy's No. 43 in Lower Manhattan. In less than a month he became the Brunch Chef for the restaurant. It was such accomplishments and talents that resulted in a strong audition for Food Network's Chopped. He was accepted as a contestant for their first Teen Episode, and he contended for the grand prize on national television at the age of 18. Joel is also a music artist, and writes and performs his own music, and strives for a dream he's always wanted. But Joel is equally loyal to his FamilyCook family and is now a Teen Battle Chef Alumni. This summer Joel is a Teen Battle Chef Summer Internship Brigade Mentor/Supervisor. Joel continues to represent what it means to be a leader, and is a role model to his community and his family, and has even started his own Private Chef/Catering Company, JGS Cuisine. Always looking for the best in himself, and challenging the best in others, Joel works hard every day to make us at FamilyCook Productions proud. We surely are…
FamilyCook Board
Chef Jimmy Carbone, Owner: Jimmy's No. 43
Jimmy Carbone is a NYC based restaurateur, dedicated social entrepreneur, and beer lover. In addition to overseeing daily operations at Jimmy's No. 43, an East Village bar and restaurant with a focus on unique beers and a greenmarket menu, Jimmy currently serves as co-chair for Taste of Tribeca, as a special advisor for The New Amsterdam Market and was elected as an advisory council member for Greenmarkets GrowNYC in 2010. In 2005 and 2009, Jimmy was recipient of the title "Local Hero" from NYC Arts and he has been featured in Edible Manhattan, Michael Colameco's Food Show and Martha Stewart Radio.
Deirdra Chester, PhD, USDA Human Nutrition Research Center
Dr. Chester holds a Doctor of Philosophy in Dietetics and Nutrition from Florida International University. As a Nutrition Scientist with the Food Surveys Research Group at the US Department of Agriculture's Human Nutrition Research Center, Dr. Chester monitors and assesses food consumption and related behavior of the U.S. population. In this role she conducts surveys and provides the resulting information for food and nutrition-related programs and public policy decisions. Dr. Chester conducts research on nutrition, physical activity and the food environment. She researches the role of diet and lifestyle to prevent chronic disease in order to enhance health and quality of life. Dr. Chester serves on the Executive Board and is Chair of the Food and Nutrition Section of the American Public Health Association (APHA). She is also a member of the Professional Development Committee of the American Dietetic Association (ADA).
Chef Chris Cheung, Restaurateur, Executive Chef
Chef Chris Cheung was born and raised here in the city. With grandparents who lived on Mott Street, he grew up loving the tastes and smells of Chinatown, and has had a lifelong passion for Asian cuisine. He graduated with honors from the New York Restaurant School in 1992, worked as a prep cook at Vong, then moved to various other restaurants here in the city including Nobu, China Grill, and The Monkey Bar. This talented toque uses traditional Chinese ingredients and techniques to lighten and modernize the classics.
Khahlidra Levister, Executive VP of 4food
Khahlidra Levister is the Executive Vice President of 4food, a new quick service restaurant serving a natural, local, and sustainable menu in NYC. Ms. Levister received a Diploma of Baking and Pastry from the Art Institute of New York. While earning her culinary diploma, she apprenticed for Chef Emily Isaac at the renowned Union Square Café. She then went on to become the Chef de Partie Pâtissier at The Modern in the Museum of Modern Art, under the direction of Executive Pastry Chef Marc Aumont. After years in the kitchen, Ms. Levister soon became interested in the non-culinary side of the restaurant industry. She began managing the Front of House at Geoffrey Zakarian's Country restaurant, and quickly became the Senior Manager. It was during this time that Ms. Levister began consulting for 4food and helped conceptualize the menu. She formally became a part of the 4food team in December of 2008
Kerry Trueman, Environmental Activist/Blogger/Speaker
Kerry Trueman is a sustainable food activist, blogger and speaker, Kerry Trueman, founded EatingLiberally.org in 2006 as a netroots website and organization to advocate for sustainable agriculture, progressive politics and a less-consumption driven way of life. She has written about edible landscaping and organic gardening for the Financial Times and served as food editor for lime.com before becoming a sustainability blogger for Participant Media''s takepart.com. Trueman currently writes about climate change, low-impact living and sustainable agriculture for the Huffington Post, Civil Eats and EatingLiberally, and authored a chapter on ecological eating for Rodale''s Whole Green Catalog (September 2009). CREDO Mobile awarded her their "Activist Blogger of the Year" award for 2009. Her most recent projects are Retrovore.com, a website for farmers, gardeners and eaters who favor conservation over consumption, and The MudRoom, a weekly webcast in development that blends muckraking and cultural commentary.
Hazel A. Witte, Esq., Attorney & Consultant
Hazel is an attorney and consultant specializing in health care, pensions and other benefit issues. She has held positions at the U.S. Departments of Labor, Health and Human Services, and U.S. Small Business Administration, as well as at research and not-for-profit organizations. Currently she is the consultant for National Programs, for ASTAR – The Advanced Science and Technology Adjudication Resource Project, in Washington, DC. Ms. Witte, who has published numerous books and articles, is a member of the District of Columbia Bar.