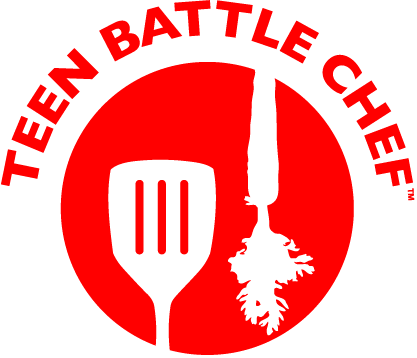 Teen Battle Chef (TBC) is a hands-on culinary skills and nutrition education program that meets youth where they are at, creating a safe environment for building a healthy lifestyle. The curriculum includes step by step training modules, lesson plans and plant based recipes (with meat as a condiment). Our turn key programs are adaptable and ready to go with easy distance learning and live training sessions for instructors available anywhere in the USA or beyond. All that is needed is needed to run Teen Battle Chef is a classroom with a sink, though kitchens work perfectly too.
Host our Teen Battle Chef evidence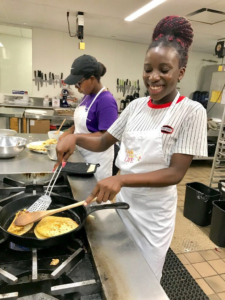 based program and watch youth grow beyond their comfort zone through actual experiences (not virtual), while building a tool kit towards healthy, sustainable behavior changes. We start with Culinary, Knife and Public Speaking skills. Youth learn about Nutrition, Proper Sanitation & Hygiene, Teamwork, Food Presentation, Palate Development, and Goal Setting.
Our embedded, documented measures show an increase in TBC youth's school attendance and their grades. Graduation rates go up. Youth's ability to focus, problem solve and develop into leaders becomes easier. Once skilled up, they become "agents of change", sharing their newly developed skills and nutrition knowledge with friends, family and their community.
Our 'sustained effect' study of TBC alumni revealed:
80% achieved and sustained a healthy weight up to 7 years post program
82% report summer or post high school job placement
92% linked their successes to the acquisition of analogue skills
An 85% decrease in cell phone "screen time"

Check out what kids have discovered in Teen Battle Chef!

Download more details in our Fact Sheet.

Teen Battle Chef is Snap-Ed Approved – Review on the  SNAP-Ed Toolkit

Virtual version of LIVE TBC program is available for rural communities – watch some recorded classes to see how much youth learn while having fun:
New PSE Outcomes Model:
Teen Battle Chef + National School Lunch Program
NEW PSE MODEL SPRING 2019
FamilyCook partnered with the NYC Dept. of Education Office of Food & Nutrition Services (OFNS). TBC students from 12 of the approximately 30 participating Teen Battle Chef middle and high schools throughout NYC developed school breakfast recipes for inclusion in the citywide school breakfast.
We focused on breakfast because:
On-time school attendance is low for middle and high schools
For this reason, principals will get behind kids promoting school breakfast
School meal participation is lowest for middle and high school at breakfast
Kids really dislike school breakfast options
Students' exciting breakfast ideas included: Overnight oats bar with range of toppings; Egg burrito; Waffle bar with yogurt toppings; Egg Tacos with veggies and feta cheese; Egg sandwich with tomato and basil.
OFNS will select recipes to go on the citywide Breakfast menu for 2019-20
Teen Battle Chefs will promote school breakfast in their schools to build anticipation and excitement:
Wellness Council school breakfast campaign with their school food service manager
Breakfast recipe cooking demo videos on hall monitors
Morning announcements about new menu items for school breakfast
Lunch-time cooking demos to preview new breakfast items with samples
Measurable PSE Outcomes
Meal participation rates will be compared to the previous year to assess increase
Reduction in plate waste can also be assessed
Increase in school participation in TBC =

more students co-creating menu items with OFNS
more students promoting school meals
creates steady increase in total number of students eating school meals
This model is replicable and FamilyCook can provide the procedures and training for new sites to achieve these exciting outcomes.