Guaranteed Program Impact
All FamilyCook programs are field-tested with documented behavior change impacts. During our 20+ years designing and disseminating teaching kitchen programing, FamilyCook Productions has conducted research and program evaluation in collaboration with our many academic partners around the US.
310,000+
YOUTH + ADULTS REACHED
Cumulative research over 25 years
Through the many rounds of program evaluation that we conduct, we design research studies to help answer key questions about what works. After more than two decades of this research, we have identified the 10 Experiential Drivers that inspire wholesale lifestyle changes leading to a healthy weight among all age groups. This newly published study in Health Promotion Practice in spring 2020 provides a Teaching Kitchen Framework in 2 parts: one for parents and younger children and the other for older adolescents and adults. When these 10 Drivers are included in a program design, there is a higher likelihood that behavior change becomes self-evident and enjoyable to all who participate.
Here is our animated video that provides a look at how these 10 drivers work together in a teaching kitchen:
PRELIMINARY OUTCOMES ON VIRTUAL PROGRAM DELIVERY
Since April, FamilyCook has had over 20 cohorts and nearly 300 youth participating in Teen Battle Chef LIVE online. Instructors have been a mix of partner instructors trained by FCP and FCP team instructors. September 2020 has yielded some preliminary data obtained from over 100 youth in 11 cohorts. These results are exciting and show it is possible to improve food behaviors and achieve the same youth development outcomes virtually as we did in person. Details here…
Preschool "Willow" evaluations:
Willow 13 WIC Site, 10 state, Evaluation: Manuscript in Development
Elementary "Look Who's Cooking" evaluations
LWC Rochester NY Evaluation: Manuscript in Development
LWC CT Dept of Public Health Evaluation: Manuscript in Development
Middle/High School "Teen Battle Chef" evaluations
Radiating Effect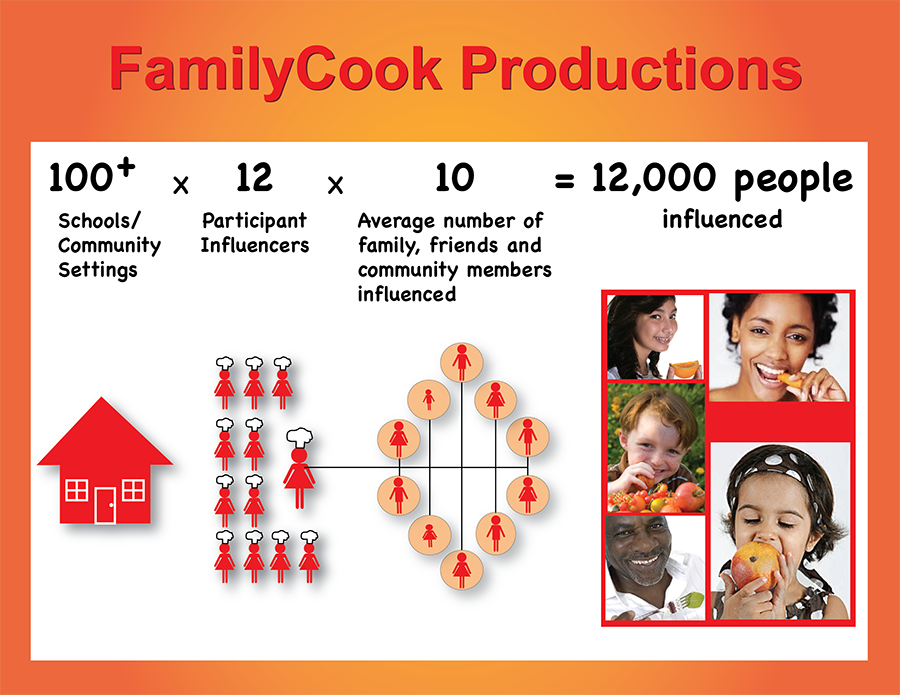 Statistics based on research data collected from NYC public high school students in the Teen Battle Chef program over the period of February-June in the 2013 school year.
Our programs inspire deep-seated change. Preschoolers, teens, adults – all ages become motivated to repeat and share their food habits and discoveries with others. This is the sweet spot for all FamilyCook programs and what is key to achieving the high levels of success, as depicted in our diagram above.
Scalable, Turn-Key Program Design
FamilyCook teaching kitchen designs are scalable and adaptable for implementation anywhere in the US and beyond. In one training session, we can accommodate staff for 15 different program sites. Our evidence-based and field-tested curricula has been replicated in over 300 sites across 30+ states, influencing over 310,000 youth and adults nationwide. Our training protocol involves distance learning, hands-on lesson practice and program management. It is applicable for professionals as well as staff who do not have culinary or dietetic skills.
Join our Teaching Kitchen Networking groups for sharing best practices amongst practitioners and researchers that support measurable behavior change!
Join via Facebook
Join via LinkedIn