PRELIMINARY TEEN BATTLE CHEF VIRTUAL PROGRAM RESULTS: strong food behavior changes achieved!
As we do data entry and analysis of a subset of over 300 youth in our virtual Teen Battle Chef program since April, we are thrilled so see that we are reaching our behavior change targets.
We enrolled over 250 youth this summer and obtained survey data from 124 NYC youth, representing neighborhoods across NYC, with a big emphasis on the Bronx and Queens.
Here are some highlights:
Has Teen Battle Chef helped you to feel empowered to make more snacks and meals at home?
88% YES
12% NO
Do you try to get more 'colors' of vegetables (or fruits) in your meals since you took this class?
69% YES
27% SOMETIMES
Do you cook with a cooking buddy (parent, sibling) at home?*
18%YES
35% NO
47% SOMETIMES
Thinking about your overall experience, would you take this class again, learning new skills and recipes?
87%YES
Would you recommend this class to a friend?
98% YES






Participation in the COVID ERA: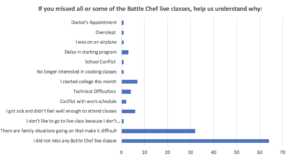 UNDERSTANDING BARRIERS TO PARTICIPATION: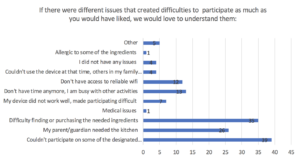 WHAT TBC YOUTH COOK OUTSIDE OF CLASS: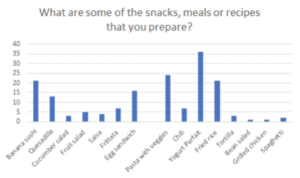 * This question is important: we have identified a positive correlation between frequency of youth cook with others (family or friends) and the degree they positively influence the food behaviors of their family and friends.