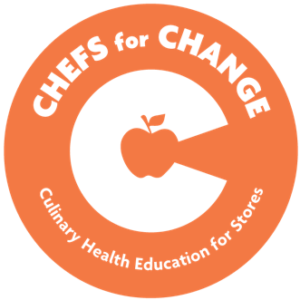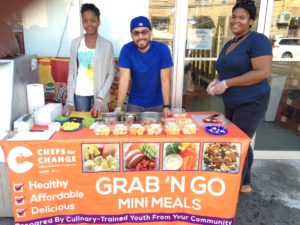 CHEFS for Change is an interactive grocery/corner store merchandizing and marketing program designed for the most 'low tech' food retail environment but adaptable to more sophisticated point of sale systems and communications technology. It is also bi-lingual (English-Spanish).
A variety of promotional strategies are involved, including signage, QR codes, product sampling, messaging, merchandising tools and techniques, and a 'profit calculator' to measure progress.   The program partners with community organizations to obtain community needs and announce the new access to healthful foods as changes are made.  Engagement of local high school youth leaders to support production/sampling of new 'Grab 'n Go' items in the stores is a unique and effective component.
---
Goals for corner stores: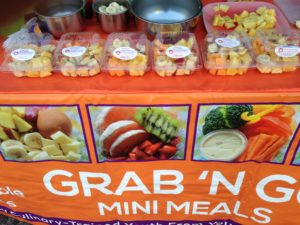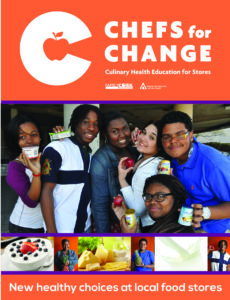 Increase the number of healthy foods available and prioritize their position in the store and on the shelf.
Provide 'Grab'nGo Mini Meals' and ensure these healthier options are affordable.
Promote more consumption of the healthy options using signage; handouts; QR codes, social media and other communications channels
Establish and nurture successful relationships with local youth and their customers.
Effectively track measurable changes in sales and profitability of new healthy choices offered.
---
How it Works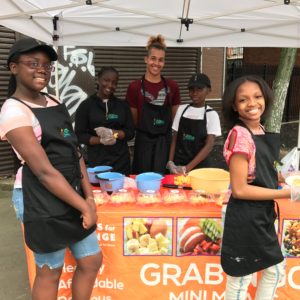 The following steps comprise the CHEFS for Change project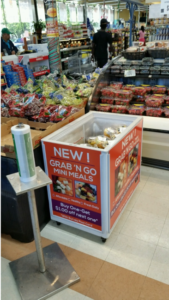 Stores and community organizations are engaged in an assessment process or their own assessments are reviewed to identify the most beneficial adaptation of CHEFS for Change model for their store(s) and community.
Store 'make over' plan is designed and implemented based on the assessment process/review in #1 above, includes merchandising of new items, grab n go and signage etc.; couponing, in-store and mail flyers with coupons etc.
Store (produce manager, other stock managers and deli staff etc) and community partner staff are trained in CHEFS for Change model, including culinary training to create their own "Grab 'n Go Mini Meals" from the program assortment – with opportunity to develop their own "Grab n Go" concepts that will be culturally relevant to their store clientele.
Community partner groups trained in CHEFS for Change healthy retail modules to support store font and in-store promotions by CBO staff and local high school youth leaders (who have culinary training from CHEFS for Change) to add excitement and bring attention and press to the new healthy food access.
Staff retail point of sale training to manage coupon redemption, track sales and utilize profit calculator to ensure net change in sales over time and profitability is tracked.
Additional point of sale components and "Grab n Go" items can be added over time.
Community partner groups continue to support and promote within their own networks and help support with social media.
NOTE: While CHEFS for Change offers branding for customer awareness, this branding is not required to participate. Healthy retail project partners can use their own existing branding with the CHEFS for Change components. Their brand identifiers can be added to these tried and true merchandizing and promotional components as needed.
---
Scalable, Replicable +  Youth Powered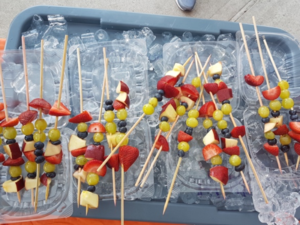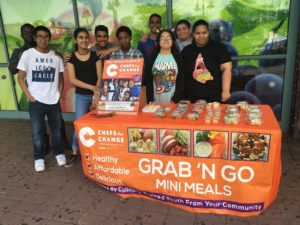 CHEFS for Change has been rolled out to over 40 corners stores and small grocery chain locations since 2013. Replication is possible through online store employee training and point of sale promotion designs that can be adapted to any location.
The program is designed to collaborate with local youth groups to capitalize on adolescents' infectious energy and enthusiasm.   The program is designed to build on youths' inherent and growing self-confidence, independence, and desire to test their ability to impact and engage in the "adult world." The program trains youth in culinary, nutrition and public  speaking skills about nutrition and healthy eating as well as develop and fine tune their ability to conduct a healthy cooking demonstration and to cook in general. And for all the important community goals, it's also an awful lot of FUN!