Bird's Nest Pasta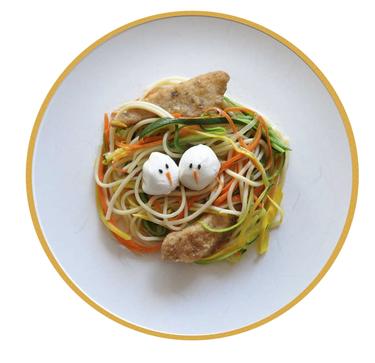 Stephanie Brooks – Dietetic Intern, FamilyCook Productions

Serves: 4 adults, or 2 adults & 3-4 children
Ingredients
16oz boneless, skinless chicken breast
2 eggs
½ cup whole wheat flour
1 cup cornmeal
2 tsp salt
1 tsp ground black pepper
2 Tbsp Italian spice blend (ex: parsley, oregano, thyme, garlic, onion)
Cooking spray
6 oz spaghetti
1 green zucchini
1 yellow zucchini
1 carrot
2 cloves
garlic, chopped
1 8oz container fresh mozzarella balls, small balls ~1/2" diameter
4 Tbsp extra virgin olive oil
Optional – ¼ cup Parmesan cheese, 2 Tbsp fresh parsley
Special Equipment
Julienne slicer or peeler – to make the veggie 'noodles'.
OXO's julienne peeler is only $9.99 and works just like a peeper to shave thin strips of veggies like carrots and zucchini.
OXO also has a hand-held julienne slicer for $14.99 which you can use for all types of veggies like cucumbers, beets, or potatoes.
Procedure
Preheat oven to 350 degrees Fahrenheit. Combine the cornmeal, salt, pepper, and Italian spices in a shallow bowl. In a separate bowl, beat the eggs with a tablespoon of water. In a third bowl, add the flour.
Cut the chicken into strips (any size or shape you want, just make sure the strips are all about the same size). Season the chicken with salt and pepper. Dredge the chicken in the flour, shaking off excess flour. Then dip the chicken into the egg, letting extra egg drip off. Finally, coat the chicken in a thin layer of cornmeal.
Line a baking sheet with parchment paper or tin foil (note: do not use wax paper, as it will melt in the oven). Lightly spray the tin foil or parchment paper with cooking spray, then arrange the chicken so no pieces are touching. Lightly spray the top of the chicken with cooking spray. Bake the chicken in a 350 degree oven for about 15-20 minutes, until lightly browned and the chicken is fully cooked when sliced open.
While the chicken is baking, bring a large pot of water to a boil. Prepare the zucchini and carrot by shredding using a julienne slicer or peeler (note: you can also slice the veggies into very thin strips). Reserve small scraps of carrots to make the 'bird's beaks' when plating the dish.
Once the water is boiling, liberally salt the water and add the spaghetti, stirring to prevent sticking. Note on the package how long the spaghetti will take to cook. Two minutes before the spaghetti is done cooking add the zucchini and carrot directly to the pot and stir. Once the spaghetti is cooked al dente, drain the pasta and vegetables. Return to pot, and add olive oil, garlic, and salt and pepper to taste.
Assembly
Use tongs to grab a portion of spaghetti and veggies. Serve ½ cup pasta & veggies for children, and 1 cup for adults. Slowly lower the pasta to the plate, twirling the tongs so the pasta twists into a nest shape. Arrange the chicken strips throughout the 'nest'. Make a small indent in the middle of the pasta, and add two small mozzarella balls. Place two black sesame seeds on each mozzarella ball to look like eyes, and place a small shred of carrot in the middle to look like a nose. Garnish with Parmesan cheese and parsley, if desired.