INFOGRAPHIC: Drivers of Behavior Change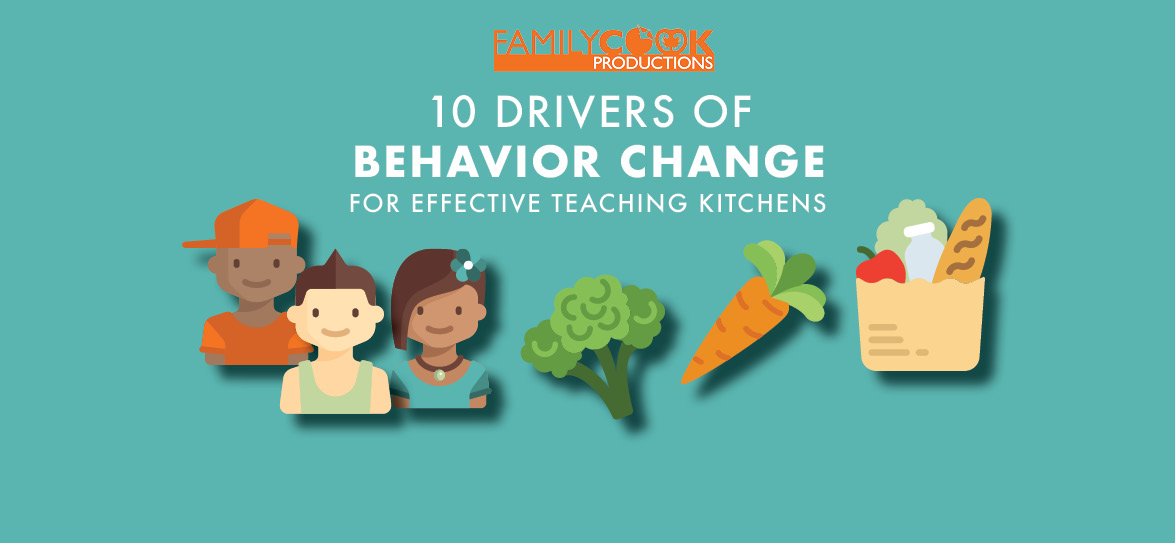 This Behavior Change infographic illustrates methods that teaching kitchens can employ to promote behavior change outcomes amongst participants, with the goal to improve nutrition and prevent lifestyle-related conditions like obesity, diabetes and heart disease:


A few examples of the many ways FamilyCook programs create experiences to shift participants' Core Values + Perceptions of their capabilities.
Challenge
Move participants out of their comfort zone with new flavors and skills.
In action: Global recipes and presentations made by participants push them past their boundaries and promote growth.
Celebration
Create an atmosphere so fun, enjoyable, and special, one does not want it to end.
In action: Festive, colorful place settings and fun tools create a celebratory environment; the learning experience feels more like a party than a class.
Collaboration
Generate a positive group dynamic that values group over individual accomplishment. Create a feeling of being part of something bigger.
In action: As teams prep food together, they must learn each other's strengths and weaknesses to achieve weekly goals.
Home Environment
Actively address home dynamics, facilities and access to healthy food. Create solutions and strategies together.
In action: Take-home recipe assignments encourage participants to adapt recipe concepts using easily accessible ingredients at home, with family and friends.
Palate Development
Explore, investigate and taste a wide range of flavors from fresh ingredients, spices and condiments. Build anticipation and excitement in trying new combinations
In action: Participants are expected to at least taste each new multicultural dish that they themselves have prepared.
Peer Support
Experience subliminal sense of a level playing field with other participants; New behaviors become normative and acceptable.
In action: Participants collaborate in teams with their peers toward a common, challenging goal which creates a level playing field. They feel supported by their group and empowered to achieve their goal.
Recipe Concepts
Move beyond recipe driven cooking. Empower participants to understand recipe concepts and how to swap ingredients.
In action: In-class discussion on exchanging ingredients by season bolsters understanding of recipes as concept. Take-home charts reinforce this.
Skill Building
Build culinary and leadership skills that position participants as ambassadors sharing healthy food strategies and flavors with others.
In action: Participants' culinary skills are assessed 2-3 times over the course of the class.
Skill Reinforcement
Measure participants' advancing skills through repeated tasks over multiple sessions; point out that the tasks that were once challenging are now easy.
In action: Participants receive assessment and feedback on their skill development verbally and numerically.
Success
Create activities so participants build confidence, become competent, develop pride and feel a sense of accomplishment.
In action: Activities are set up for participants to experience success.
---
Over the last 20 years, 10 Communication and Delivery Methods emerged from FamilyCook Production's program development, refinement, evaluation, and dissemination. In combination, they have produced behavior change among all age groups. FamilyCook Productions is conducting further research on these Methods in collaboration with Teachers College, Columbia University, Program in Nutrition to understand more about the experiences they create that are so critical to changing behaviors.