Mercedes' White Bean & Chorizo Spanish Stew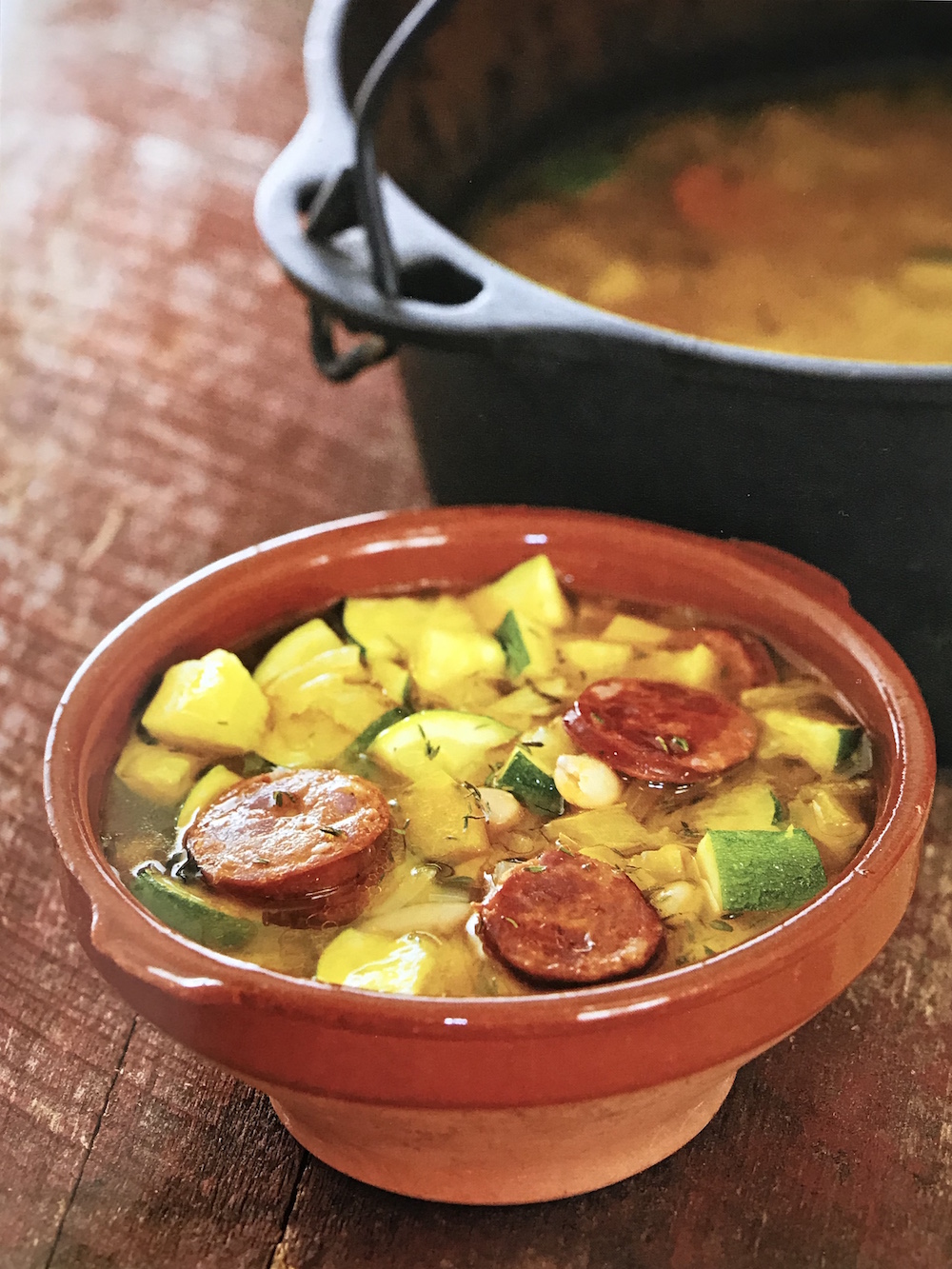 This easy and delicious recipe is from our own FamilyCook RD, Mercedes Sanchez.
It's adapted from a recipe she enjoyed growing up in Madrid, Spain. 🇪🇸🇪🇸🇪🇸 
Mercedes' White Bean and Chorizo Spanish Stew 
1/2 yellow onion 
1/2 red or yellow bell pepper 
1 small zucchini 
2 cloves garlic 
1/2 pound Spanish chorizo sausage or Portuguese linguica sausage (do not use Mexican or Caribbean sausage)  
4 to 5 tablespoons extra-virgin Spanish olive oil 
3 sprigs fresh thyme 
4 cups water 
2 cans (15 ounces each) white beans, rinsed and drained 
Salt and pepper 
Head on over to our blog to get the full recipe which involves your kids in cooking (it's what we do best!). 
Note: Children should use plastic or table knives for all child steps that require cutting or chopping. 
Adult Slice the onion. 
Child Dice the onion slices. 
Adult Slice the bell pepper and zucchini. 
Child Dice the bell pepper and zucchini slices. 
Adult Smash the garlic cloves with the flat side of a chef 's knife to remove the peel and slice thinly. Cut the chorizo into slices about 1/4 inch (6 mm) thick. 
Child Help mince the garlic slices. 
Adult Heat a large stockpot over medium heat. Add the olive oil and the onion and bell pepper, and cook, stirring often. When the onion becomes translucent, add the zucchini, garlic, and chorizo slices. Cook over medium heat for 5 to 8 minutes, or until the chorizo is browned. 
Add more olive oil if needed. 
Adult & Child Remove thyme leaves from the stems and add to the stockpot. Measure the 4 cups (946 ml) water and add to the stockpot. Add the beans. 
Adult Bring to a boil, lower heat, and simmer 15 more minutes. Season to taste with salt and pepper, and serve.