MultiGrain Energy Bars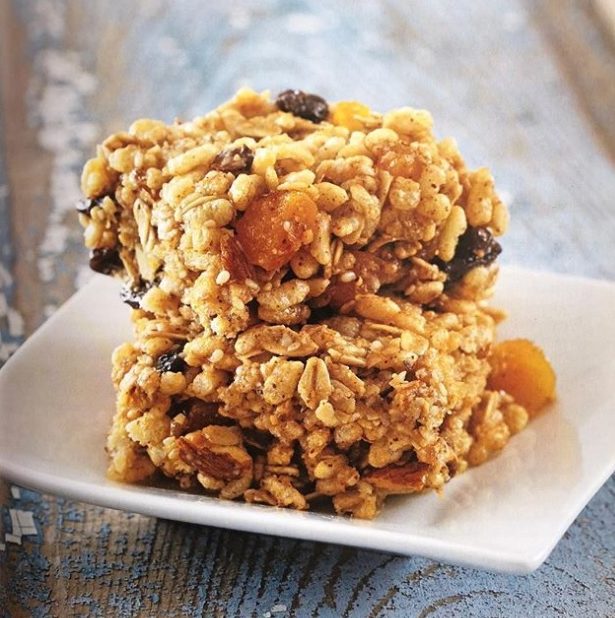 Recipe by Lynn Fredericks 
. 
Ingredients: 
¼ Cup Sesame Seeds 
½ Cup Chopped Almonds 
½ Cup Chopped Dried Apricots, Apples, or Other Dried Fruit🍎🍓 
½ Cup Raisins or Dried Cranberries 
2 ½ Cups Puffed Rice Cereal 
1 ¼ Cup Rolled Oats 
½ Cup Almond Nut Butter, Smooth and Preferable Raw 🥜 
½ Cup Agave Syrup 
½ Cup Liquid honey 🍯 
1 Teaspoon Vanilla Extract 
. 
Steps: 
Place the sesame seeds and chopped almonds on a baking sheet lined with parchment paper. Toast sesame seeds and chopped almonds in a 300F preheated oven for 5 minutes⏳

Add almonds, sesame seeds, apricots, and raisins to a large mixing bowl. Mix well. Add the rice cereal and oats. Toss to combine.🥄

In a large saucepan, whisk together the almond nut butter, agave, honey, and vanilla extract. 🔥Heat over medium-low heat for 5 minutes

Pour saucepan contents over the apricot-oat mixture and mix well using large spoon.

Grease 8-inch square cake pan with light cooking oil or butter (nothing too flavorful). Press the mixture into the pan. Let stand for 30 minutes or until firm. Cut into 1-inch squares.