Nordic Fall Veggie Wraps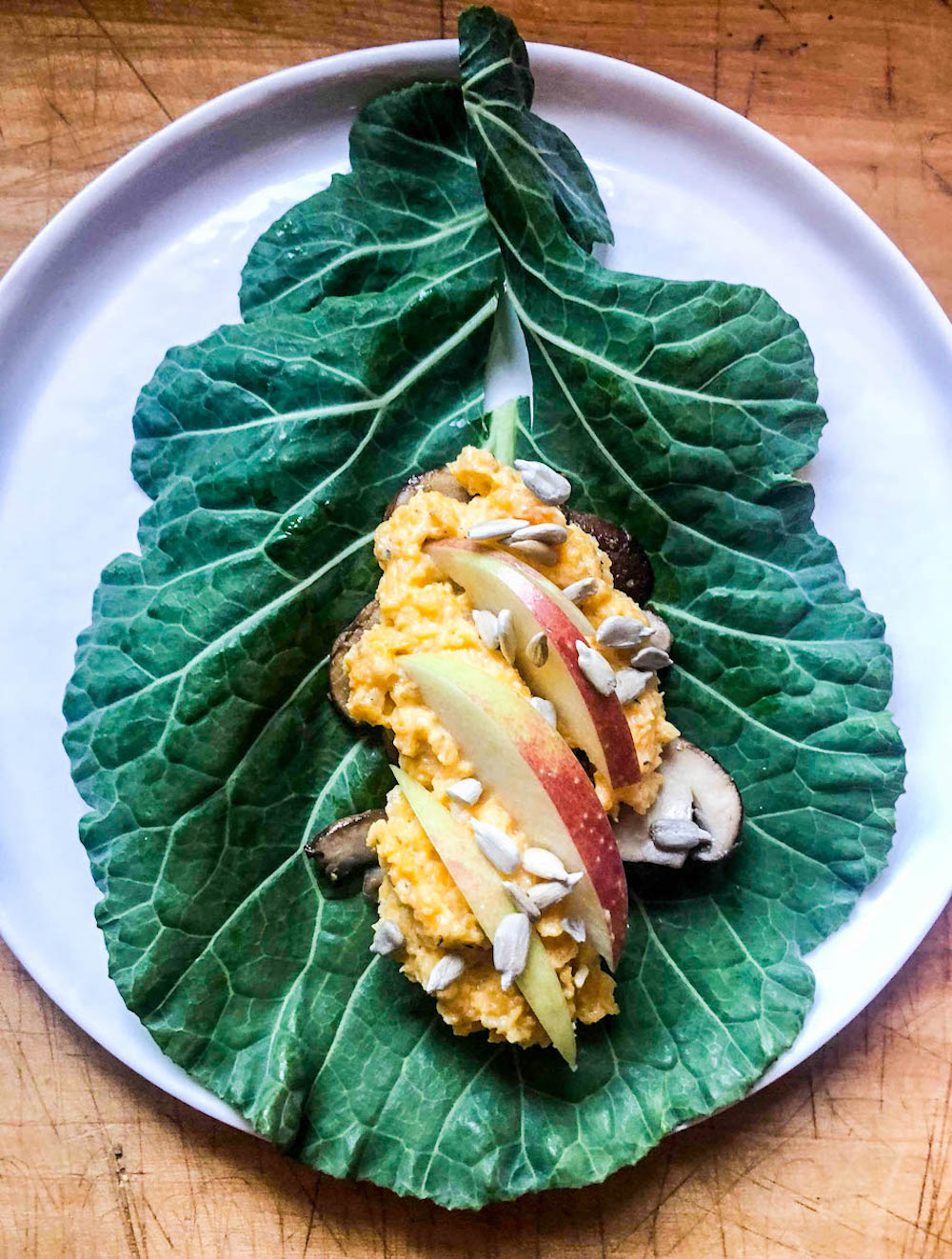 Our interns from Denmark are taking over the kitchen this week with their favorite Nordic recipes. This wrap is made of collard greens—a quick steam in the microwave softens them just enough to roll up. They're filled with a delicious pumpkin spread, a perfect way to use up all that leftover pumpkin from Halloween!
Follow a few easy steps to make them at home:
Prep the pumpkin: Preheat your oven to 400ºF. Peel your pumpkin if not organic, cut pumpkin in half and scrape out seeds. Further cut pumpkin into smaller chunks, place in a deep baking pan &sprinkle with salt, pepper, thyme, garlic, plus a swirl of bit of olive oil. Let the pumpkin bake 35-45 minutes, until tender.
Meanwhile, wash

 and slice 

your mushrooms

. Saute

 them 

in a skillet

 for 5-8 minutes over medium heat

.

 

S

eason with salt, pepper & garlic. Now you have the uma

m

i 

flavor 

to add your Nordic Wrap. 

Slice the apple into thin slices. This will be the s

our

 element to your Nordic Wrap. 

Once the pumpkin is cooked, 

p

ut the chunks into a blender.  Blend until smooth.  

S

eason your dip with a bit of cumin and other herbs, if you like.  

Voila! This sweet spread will go perfectly together with our semi-bitter collard greens.   

N

ow

 

you are ready to

 build 

your

 wrap.  

Take a piece of collard greens.

Spread some pumpkin 

puree 

on top.

Add some mushrooms and sliced apple.  

Roll up your wrap & enjoy!