Veggie Tacos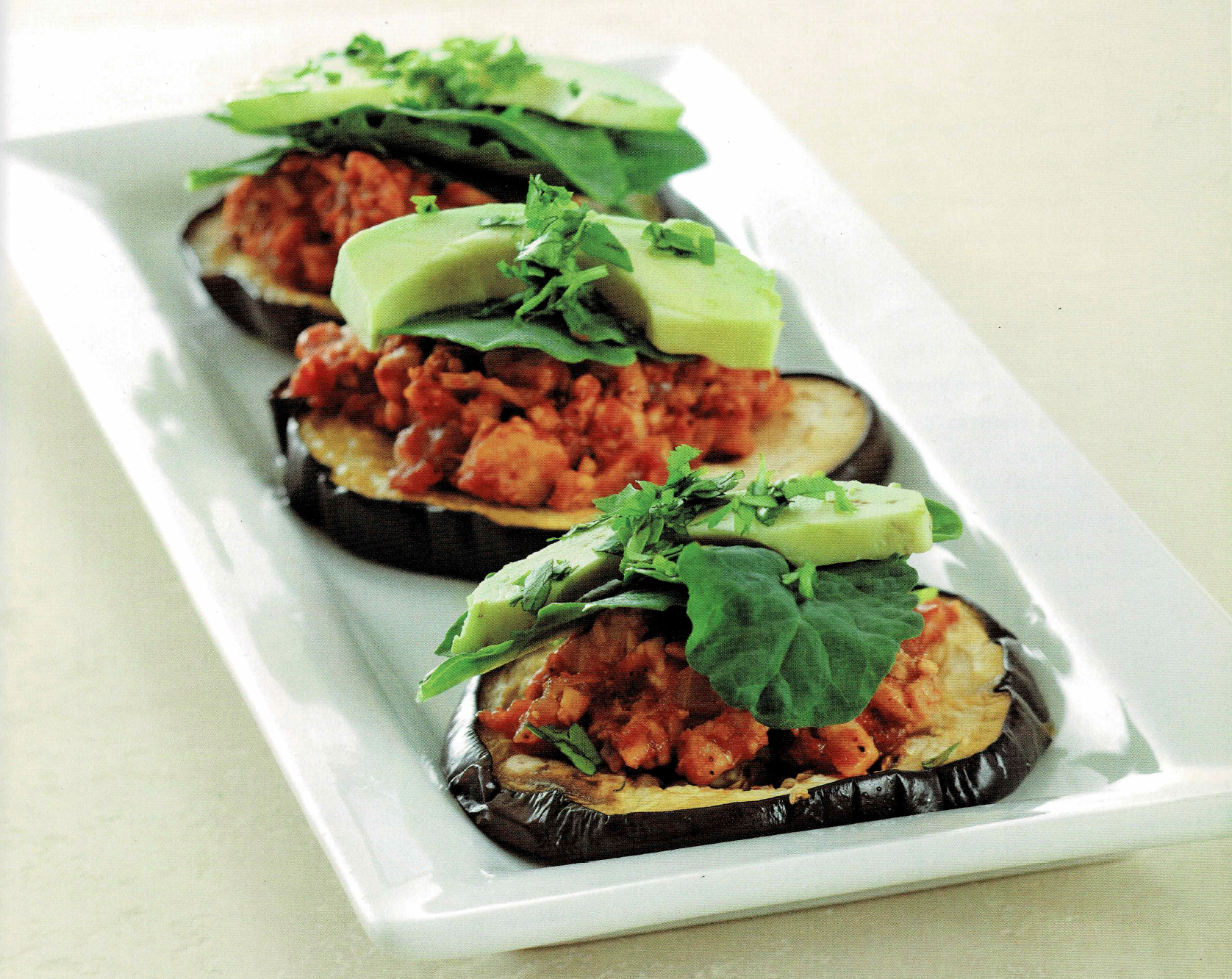 Recipe by Lynn Fredericks
Prep Time: 20 minutes
Cook Time: 15 minutes
Yield: 6 servings
INGREDIENTS
2 medium eggplants
4 tablespoons (60 ml) olive oil, divided Sea salt
1 large onion
2 large cloves garlic
1 pound (455 g) tempeh
2 tablespoons (15 g) ancho chili powder
1 tablespoon (7.5 g) chipotle chili powder
1 can (15 ounces, or 420 g) whole tomatoes
Freshly ground black pepper
1 bunch cilantro
2 ripe avocados
4 cups (220 g) mesclun greens or baby mustard greens
METHOD
Slice the eggplants thinly into at least 12 slices. Brush the eggplant with thin layer of olive oil and salt lightly.
Slice the onion. Smash garlic with the flat side of a chef's knife to remove the peel and slice. Chop the onion and garlic into very small pieces.
Heat a large skillet, and add 3 tablespoons (45 ml) of the oil. Add the onion and garlic. Cook over low heat about 7 minutes, or until translucent (child using oven mitts to protect hands).
Crumble the tempeh and add to the onion mixture. Cook for 2 minutes, mixing well.
Measure and add the ancho and chipotle chili powders to the tempeh. Open the can of tomatoes. Squeeze each tomato to crush it and add it and its juice to the tempeh mixture. Mix well and season to taste with salt and pepper. Cook 5 minutes more.
While the tempeh is cooking, set oven to low broil, and broil eggplant slices until browned (or cook on a grill pan or outdoor grill until softened).
Help remove all the cilantro leaves from the stems and discard the stems. Chop the leaves until you have about 'A cup (8 g). Stir the cilantro into the tempeh mixture, and remove from the heat.
Peel and then slice each avocado into 12 slices.
To serve, place 2 broiled eggplant slices on each plate. Spoon some tempeh, a slice of avocado, and a few pieces of baby greens onto each taco. Top with cilantro.