Cream of Asparagus Soup with Soft-poached Eggs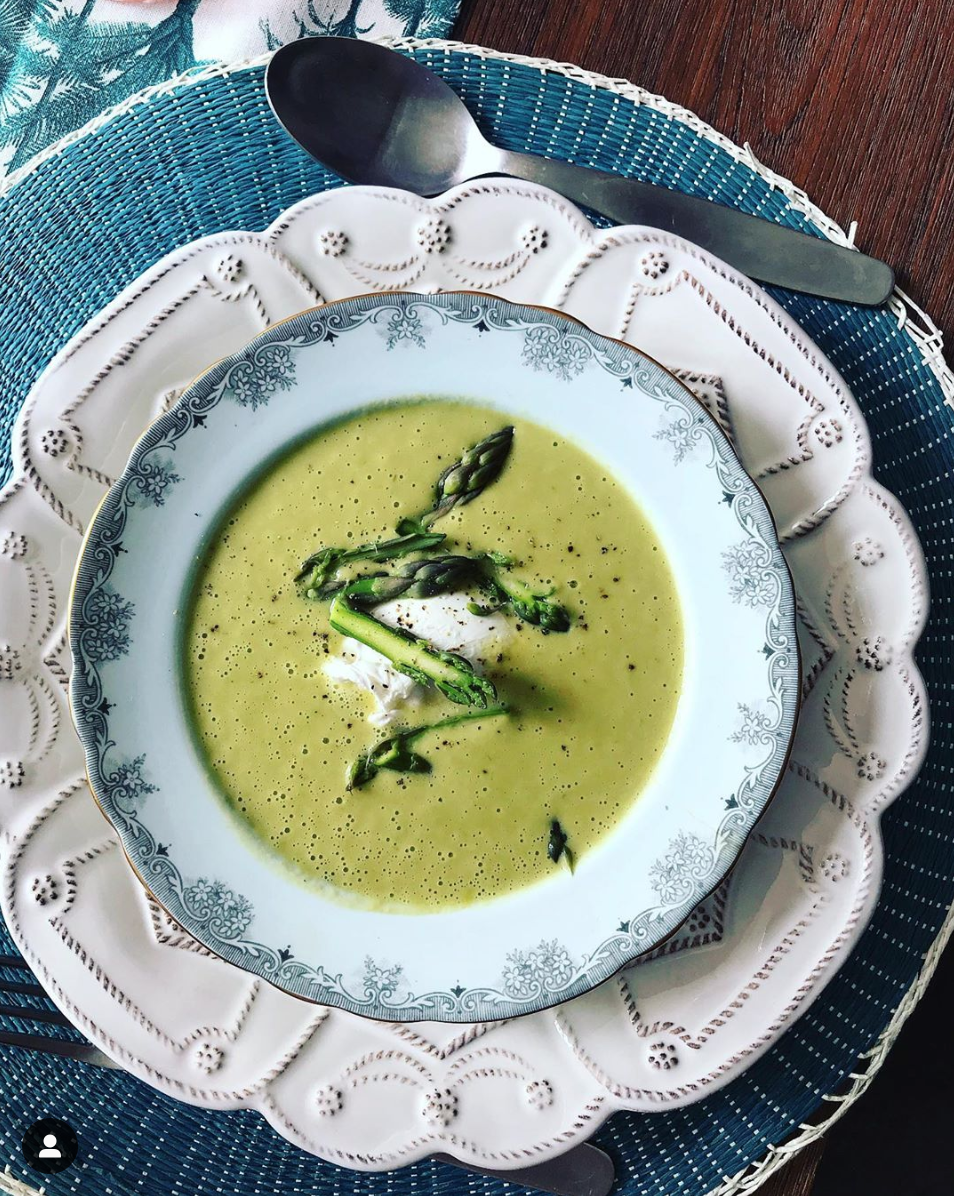 Makes 4 servings
Ingredients:
5 cups fresh asparagus
4 cups of vegetable or chicken stock
1/2 tsp white wine vinegar (or other vinegar that has close taste)
4 large eggs
1/2 cup unsalted butter
1 cup leeks, white stem only, trimmed and thinly sliced
2 small celery stalks, thinly sliced
1/4 cup plain flour
1 1/2 tbsp heavy cream
Salt and black pepper to taste
Methods:
RINSE the asparagus, SNAP and CHOP OFF the ends. THROW the chopped ends in a pan filled with the stock, bring to a boil, COVER and simmer for 15 minutes. STRAIN and DISCARD the ends. SET the stock aside.
CUT OFF asparagus tips and HALVE lengthwise. Roughly CHOP the remaining stalks.
Bring 2 small pans of lightly salted water to a boil. DROP the asparagus tips into one Pan #1 and COOK for 2 minutes until just tender. DRAIN and RINSE under cold water. SET aside.
ADD vinegar to Pan #2 and LOWER the heat. SWIRL the water with a spoon to make a whirlpool. CRACK in an egg and poach for 3 minutes.
Carefully remove the poached egg with a slotted spoon and set aside. Repeat with the remaining eggs.
MELT butter in a large pan, ADD heavy cream, asparagus stalks, sliced leeks and celery. COVER and COOK over a low heat for 10 minutes until soft.
STIR in flour and COOK for one minute. Stir in the asparagus stock, COVER the lid and SIMMER for 10 minutes until the vegetables are tender. REMOVE from the heat, cool slightly, STIR in the cream. Season to taste.
MELT the remaining butter. BRING and LEAVE the eggs back into the simmering water for 30 seconds. REMOVE and DRAIN. LADLE the soup into warmed bowls and SCATTER over the asparagus tips. PLACE a poached egg into each bowl, SEASON to taste. DRIZZLE over the melted butter and SERVE.