Emilio's Summer Paella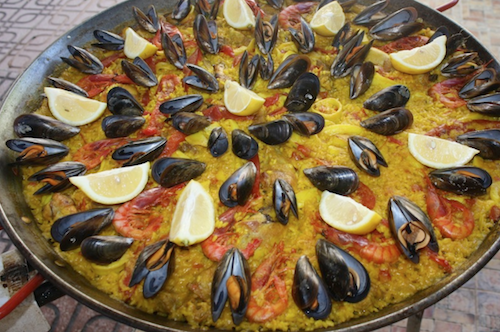 Emilio's Summer Paella
How about surprising your family and friends with a paella for Labor Day? Paella is a traditional Spanish dish and a great recipe concept to accommodate lots of people, all with one pot. Like many of our recipe concepts in Get Your Family Eating Right, paella can be adapted to what is in season as well as your family's preferences. My Mom's favorite has artichokes, my aunt's rabbit, others add white beans or amazing shellfish. Every summer in Spain, my children are thrilled when eating paella together with our extended family. It is always delicious, and good looking; a guaranteed success!
Take your children to the farmers market and get some ripe tomatoes and seafood. You can easily buy a traditional steel paella pan online or at a department store. Whatever pan you use, it's important that the rice cooks evenly. You can make great paellas on top of your round charcoal barbecue in the picnic area of many parks, or using a gas barbecue in the yard. Cooking a paella outdoors is fun and festive. Kids love to watch the process and help; especially with the final decorations, like placing muscles, shrimps and strips of red peppers on top. The beautiful colors always make a great photo-op for the family.
Serves 5 people
Ingredients:
1 1/2 pound          mussels scrubbed, de-bearded
3/4 cup                olive oil
1 head                 garlic separated in cloves with skin, softly crashed
1 tbsp                  salt
4 small                 chicken legs and 4 small wings
1                         red pepper cut in strips
1/2 pound             pork loin cut in bite-size cubes
4 medium             cleaned squids cut in rings and the tentacles in small pieces
2                          tomatoes cubed
1 pound                Spanish paella rice (medium ngrain; alternative: risotto rice or brown medium rice, not long)
1/8 teaspoon        crushed saffron
15 shrimps           head and shells on
1/2 pound             small clams
1/4                       lemon wedge per person
Place mussels in large pot of water (water level halfway up the volume of mussels you have) and bring to a boil, cooking until the mussel shells open wide.
Drain, reserve water, and set the cooked mussels aside.
Drizzle olive oil over the bottom of the paella pan, coating with a thin layer.

Add garlic and cook until lightly golden.

Remove all the cloves from pan.

Next add the chicken and start browning it over medium heart, turning them over to evenly brown.

Add peppers and cook 4 minutes; stirring as necessary to cook evenly.

Add pork and cook for 5 minutes; stirring to cook evenly.

Add salt evenly.

Add squid, shrimps, and tomatoes; stirring as they cook.

Add rice and stir it until each grain of rice is coated with oil.

Add liquid (water plus liquid from mussels) all at once: three times the amount of rice.

Add saffron (if available).

Bring to boil for 5 minutes, then simmer and stir slowly until broth is almost absorbed.

Taste to adjust salt and control the texture of the rice. Usually, the rice should be a bit more cooked than al dente.

Add clams evenly around the paella.

Arrange shrimps and mussels attractively on top.

 Remove the pan from the fire, and let rice rest for 5 minutes covered with a clean cloth towel or aluminum foil.

Arrange lemon wedges on top of paella before serving.

Enjoy the paella with a nice peach sangria!