From Denmark to the Farmers' Market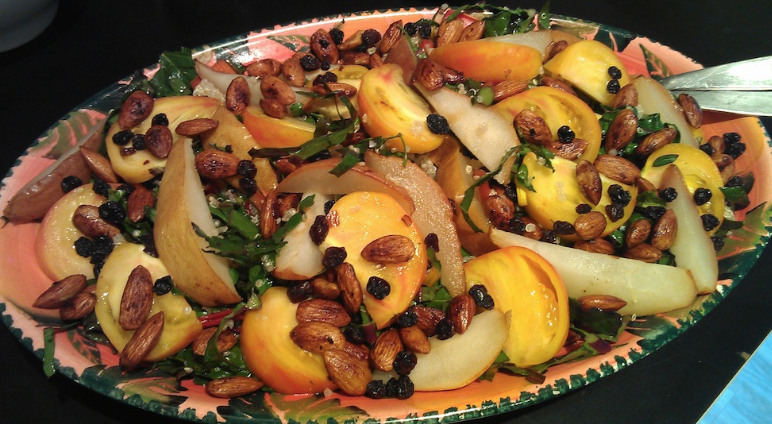 From Denmark to the Farmers' Market
I have been so lucky as to be a part of the FamilyCook Productions team through my nutrition internship, and what an experience it has been. Today I went to Hammarskjold Plaza farmers' market, and I literally felt like I was 7 again and walking into the biggest candy store. From a Danish viewpoint the variety of vegetables was an incredible experience. I had never seen so many different types of kale or squash in my life! There were so many different colors and shapes, and I felt so inspired to make a delicious kale salad with my very new friend the beautiful Russian kale.
It is so easy to get inspired when you go to the farmers' markets, there is something magical about shopping your produce from the hands of the farmers that have nurtured these fruit and vegetables to growth. I feel like I was shopping for delicious vitamins that would fill my body with all the energy and excitement we all need for life. The greatest gift you can give yourself is good nutrition from these amazing fruit and vegetables.
The vegetables and fruits that made the biggest impression on me were the different kales, so I made a salad of russian kale, baked red Bartlett pears, and yellow cherdlee tomatoes.
Kale is not a favorite dining for many, but this vegetable has some amazing characteristics that you can get great pleasure from.  Kale is very rich in vitamin C, which strengthens our immune system, and it is very high in fiber. Try to experiment with your kale and if you want all the wonderful vitamins and dietary fiber avoid cooking the kale.
So for this recipe you will need: 
(Serves 4)
1 bunch of russian kale from the farmers' market
2 big Yellow Cherdlee tomatoes
3 red Bartlett piers
1 bunch of Rainbow chard
1.5 cup Quinoa
Almonds
Olive oil
Vinegar
Salt
Soy
Directions:
First cut your pears into small wedges and put them in the oven at 300 °F for approx. 15-20 min.

Next set the quinoa over to boil for 10-15 minutes until it has the same consistency as boiled rice 

Roast the almonds with 2 tablespoons of soy sauce, and remove when golden and put them on a plate to cool down.

Rinse all your vegetables and role up your kale and chard to ribbons, so you can cut them in fine strips. Combine 2 tablespoons of vinegar and 1 tablespoon of olive oil together and mix it with the kale

Cut your tomatoes in your desired shapes

Now mix all your ingredients and top with, baked pears, roasted almonds and currants
A great tip is to make a big portion, so you can take it to work or school the next day.
Enjoy!