Kelcey's Shrimp Taco with Peppers and Roasted Tomato Salsa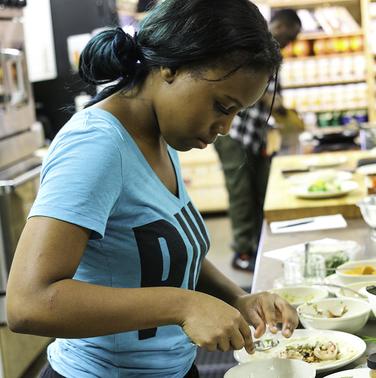 By Kelcey Ince, Winner, 'Best Taste' at Taco Reboot Food Day Event
Serves 4 adults, or 2 adults and 3-4 children
Ingredients
​8 Six-inch corn tortillas
​1 pound medium/large shrimp, peeled and deveined
​1 15-oz can black beans, drained and rinsed
1 cup bell peppers (any color!), thinly sliced
1/2 cup monterrey jack cheese, shredded
1/2 cup roasted tomato salsa (recipe on right)
Optional – chili powder, for garnish
Procedure
Prepare the shrimp. Bring a large pot filled halfway with water to a boil. Add 1 Tbsp salt to water. Reduce heat to medium, and add the shrimp. Cook the shrimp gently until pink and cooked through, about 2-3 minutes. Drain shrimp. (Optional – make smaller bites for kids by slicing shrimp in half lengthwise).
Warm the tortillas. Heat a griddle or nonstick pan on medium-high heat. Add one tortilla at a time, warm for about 30 seconds, flip, and cook for another 15 seconds. Remove from heat and wrap in a clean dish towel. Repeat with remaining tortillas.
Assembly
Prepare an assembly line with all the taco ingredients. Give adults 2 tortillas, and children 1-2 tortillas, and allow everyone to assemble their own tacos!
One of Kelcey's tacos contains:
2 shrimp
1/4 cup black beans
2 Tbsp sliced peppers
1 Tbsp shredded cheese
2 Tbsp roasted tomato salsa
A sprinkle of chili powder on top
—————————————————————-
ROASTED TOMATO SALSA
By Joel Allette – Teen Battle Chef Alumni & Internship Mentor
5 Roma tomatoes, quartered
1 Tbsp olive oil
1/2 red onion, finely diced
3 Tbsp cilantro, minced
1 Tbsp garlic, minced
2 Tbsp lemon juice
Preheat oven to 450 degrees Fahrenheit. Toss quartered tomatoes with olive oil, 1/2 tsp salt, and 1/4 tsp fresh ground black pepper. Arrange tomatoes on baking sheet, cut side up. Roast tomatoes in oven for 15 minutes, or until the edges begin to darken. Remove from oven and let cool for 10 minutes.
Once cool, roughly chop tomatoes and mix in a bowl with red onion, cilantro, and garlic. Add lemon juice, and adjust seasoning if needed.