Rose's Shrimp Taco with Black Beans and Mango Salsa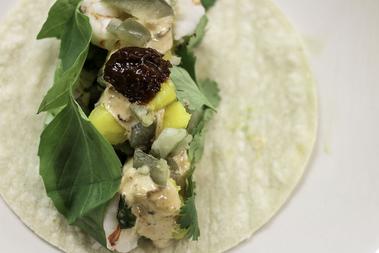 By Rose Cadet, Winner, 'Best Presentation' at Taco Reboot Food Day Event
Serves 4 adults, or 2 adults and 3-4 children
Ingredients
​8 Six-inch corn tortillas
​1 pound medium/large shrimp, peeled and deveined
​1 15-oz can black beans, drained and rinsed
1 cup mango salsa (recipe on right)
1/4 cup chipotle mayonnaise (recipe on right)
1/4 cup fresh cilantro
1/4 cup fresh basil
Optional – finely sliced jalapeño, for garnish
Procedure
Prepare the shrimp. Bring a large pot filled halfway with water to a boil. Add 1 Tbsp salt to water. Reduce heat to medium, and add the shrimp. Cook the shrimp gently until pink and cooked through, about 2-3 minutes. Drain shrimp.
Warm the tortillas. Heat a griddle or nonstick pan on medium-high heat. Add one tortilla at a time, warm for about 30 seconds, flip, and cook for another 15 seconds. Remove from heat and wrap in a clean dish towel. Repeat with remaining tortillas.
Assembly
Prepare an assembly line with all the taco ingredients. Give adults 2 tortillas, and children 1-2 tortillas, and allow everyone to assemble their own tacos!
One of Rose's tacos contains:
2 shrimp
1/4 cup black beans
2 Tbsp mango salsa
1 tsp chipotle mayo
2 basil leaves
4-5 cilantro leaves
1 small piece of chipotle pepper on top
1/2 tsp jalaneño on top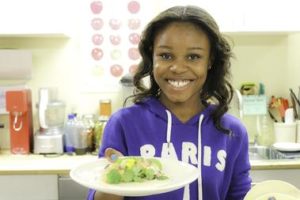 —————————————————————
MANGO SALSA
By Joel Allette, Teen Battle Chef Alumni & Internship Mentor
Makes 2 cups. Use leftovers on salads, as a dip, and more!
​
2 large mangoes, peeled and chopped
1/2 green bell pepper, finely diced
1/2 red onion, finely diced
1/2 bunch basil, thinly sliced
2 tsp apple cider vinegar
1 1/2 tsp sugar
Mix all ingredients together in a bowl. Adjust seasoning if needed. Let rest for 30 minutes before serving to allow flavors to blend.
—————————————————————
CHIPOTLE MAYONNAISE
By Joel Allette, Teen Battle Chef Alumni & Internship Mentor
Makes 1 cup. Use leftovers on sandwiches, eggs, and more!
​
1 can chipotle pepper in adobo sauce
1 cup low-fat/light mayonnaise
Remove 2 chipotle peppers from can of peppers in adobo sauce. Finely chop peppers. Mix chopped peppers, mayonnaise, and 1-2 tbsp of the adobo sauce in a bowl. Adjust seasoning as needed, adding more adobo sauce for a spicier dip and more mayonnaise for a milder dip.