Roast Carolina Chicken with Green Grape and Toasted Quinoa Salad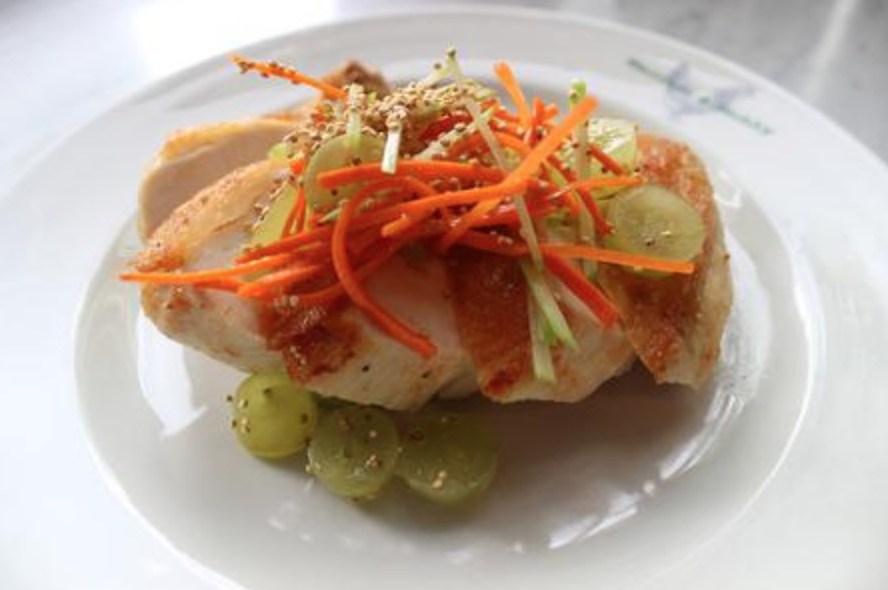 Chef Shaun Doty, Bantam + Biddy, Chick-a-Biddy, Atlanta, GA
Serves 4 adults, or 2 adults and 3-4 children
Toasted Quinoa
1 Cup Quinoa
4 Cups Water
2 tsp Organic Cane Sugar
​pinch Cinnamon
Soak quinoa in the 4 cups water for 5 minutes. Swish the quinoa around in the bowl of water using a spatula for a few minutes. Strain off the water using a fine meshed strainer, then press in strainer to drain completely.
Put the strained, cleaned quinoa into a heavy bottomed skillet, and put the skillet on at medium heat. Using a heat-safe spatula, or a wooden spoon, gently move the quinoa around the pan continuously. The water will dry off, and the quinoa will start to pop. After the popping process, the quinoa will brown. Reduce heat and keep stirring. Once the quinoa starts to smell nutty, and has a beautiful brown color, remove quinoa from the pan and place it in a bowl to cool. Set aside and reserve at room temperature.
​Add 2 teaspoons of organic cane sugar and a pinch of cinnamon. Mix to combine with the toasted quinoa.
For the Chicken:​
4 bone-in, skin-on chicken breasts
1 tsp salt
1 Tbsp vegetable oil
Preheat oven to 350 degrees Fahrenheit. Season chicken breasts with salt. Heat vegetable oil in oven-safe skillet over medium heat. Place chicken, skin side down in hot pan and cook over medium heat until skin starts to brown, about 2-3 minutes. Place hot pan in preheated oven, with chicken skin side down, and cook for 14 minutes. Take chicken out, flip breast over and cook for an additional 2 minutes, or until juices run clear.
​For the Quinoa Salad:
1 ½ cups Green grapes, washed and sliced in half
1 cup Toasted quinoa
1 each Carrot, peeled, sliced, and julienned
1/3 each Green apple, sliced and julienned
1 Tbsp. Apple Cider Vinegar
2 Tbsp. Water
1 Tbsp. Honey
2 Tbsp. Extra Virgin Olive Oil
1 pinch sea salt
Toss all salad ingredients together, place on top of sliced chicken breast and serve at once. Serve 1 chicken breast for each adult, and ½ chicken breast for each child. Remove the chicken from the bone before serving to a child.