Salad Nicoise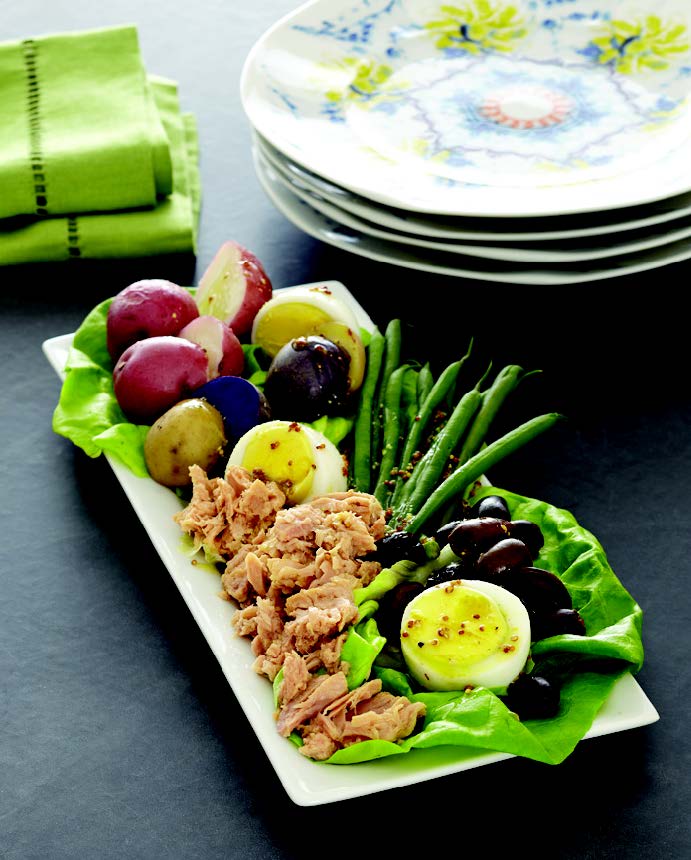 Salad Nicose
Recipe by Lynn Fredericks
Prep Time: 20 minutes
Cook Time: 20 minutes
Yield: 4 servings
Salad Ingredients:
2 heads Boston lettuce
3 eggs
1/2 lbs green beans
2 cans or jars of Italian tuna
1/2 container grape tomatoes
8 potatoes
1/2 cup Nicoise olives
3 tablespoons capers
Dressing Ingredients:
1/2 cup extra virgin olive oil
1 lemon
1 clove garlic
1 tablespoon Dijon mustard
3 sprigs tarragon, fresh
6 leaves basil, fresh
Method:
Fill a medium saucepan halfway with water, add potatoes, set over high heat to boil. Remove when a fork can go through the potato easily. Trim the ends of the green beans and cut in half then blanch them in boiling water for potatoes for 2 minutes
Remove with slotted spoon. Drop eggs gently into boiling water and cook for 15 minutes. Remove with a slotted spoon
Wash and dry the lettuce and arrange the leaves on a large platter and fan out around the edges. Open the can or jar of tuna. Drain the tuna and flake with a fork in a small bowl then place in the center of the platter. Cut the grape tomatoes in half and the cooled potatoes into quarters.
Peel and quarter the eggs. Arrange grape tomatoes, potatoes, eggs and green beans nicely around the tuna. Sprinkle olives and capers evenly throughout. Squeeze lemon into cup with olive oil
Chop the herbs then add them to the cup. Mince the garlic and add to the cup with the mustard. Blend dressing ingredients evenly with a fork or a small whisk. Drizzle the dressing evenly over the entire salad.