Ginger Pear Crisp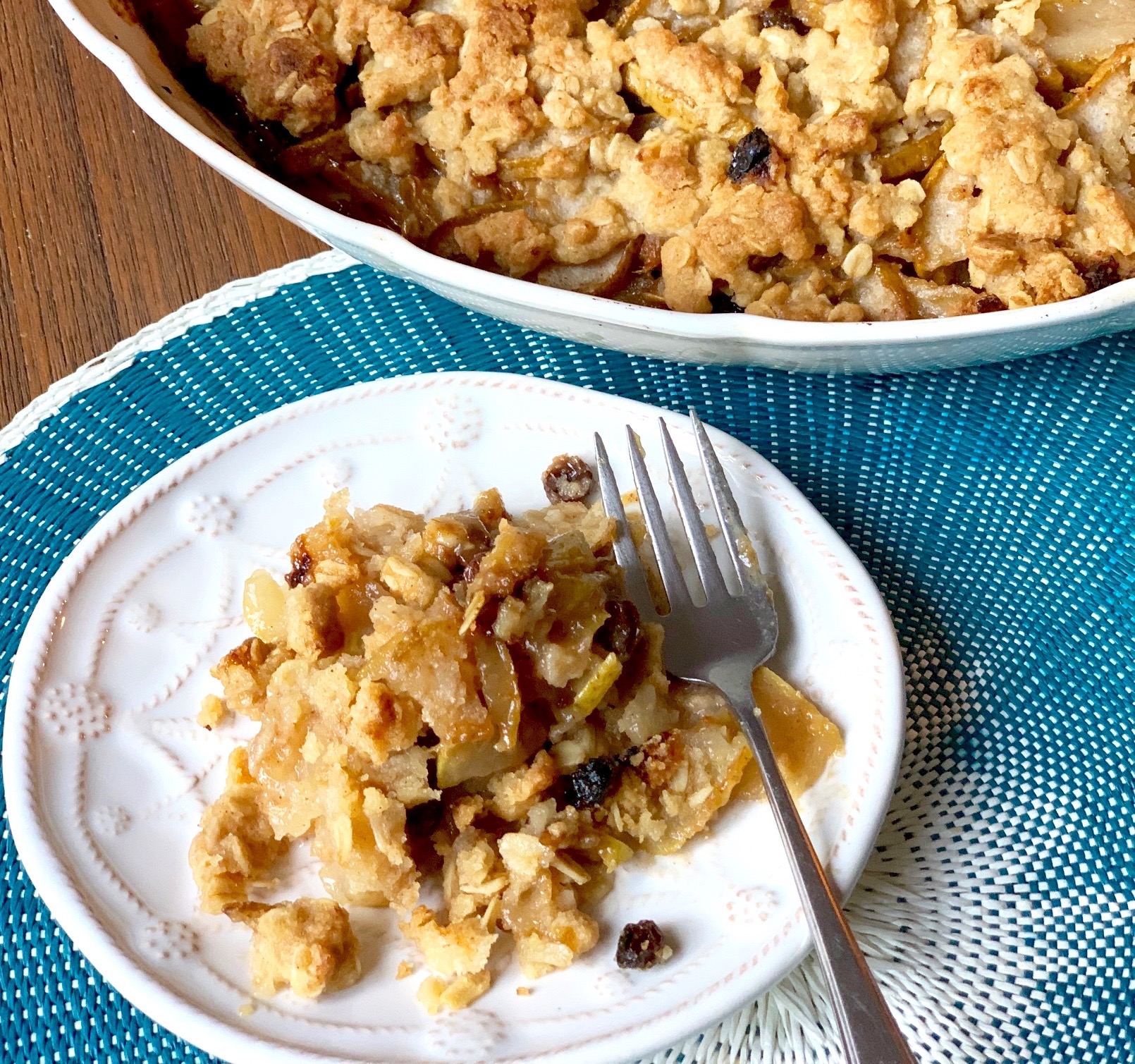 Ginger Pear Crisp 
Recipe by FamilyCook Productions 
"Moderate" 
Prep Time: 15  minutes Cook Time: 30 minutes     Makes: 12 servings 
Fruit crisps are always a welcome treat, but the combination of pears with ginger is a delicious fall twist on the usual berry or stone fruit crisps of summer, and the ubiquitous apple crisps that usher in the cool weather. 
INGREDIENTS: 
4 ripe 

Bartlett or Anjou pears

 

2-inch piece   

Ginger, fresh, peeled and grated

 

½ cup 

Raisins

 

2 tablespoons 

Sugar

 

1/3 cup 

All-Purpose Flour

 

1/3 cup 

Rolled Oats, uncooked

 

1/4 cup 

Dark 

or Light 

Brown Sugar

 

1/4 teaspoon 

Cinnamon

 

Pinch 

Nutmeg and Salt

 

1 stick (4 oz) 

Unsalted Butter, melted

 
DIRECTIONS:
PREHEAT the oven to 400 degrees F.

 

PEEL, CORE, and thickly SLICE the pears. 

 

TOSS the pears with the 2 tablespoons sugar, grated ginger and raisins in a medium mixing bowl.  

 

EMPTY the bowl into a deep, buttered 2-quart baking dish. The fruit should be at least 2 1/2-inches deep in the pan; ADD more fruit, if necessary.

 

STIR together the flour, oats, sugar, cinnamon, nutmeg, and salt

 in a mixing bowl

. DRIZZLE in the melted butter. TOSS the ingredients with a fork to blend. (Do not over mix, keep it crumbly.)  

 

SPRINKLE the topping over the pears, PAT down gently. 

 

BAKE for 30 minutes, until pears are tender and the topping is browned. SERVE warm.

 
Tip: If  you find it difficult to peel the ginger with a vegetable peeler, scrape away the skin with edge of a teaspoon. It will scrape off easily! 
NUTRITION INFO PER SERVING:
Makes: 12 
Serving size:   ½ cup  
Calories

 

Fat

 

 

Saturated

 

fat

 

Cholesterol

 

Carbohydrates

 

Sugar

 

166.1 cal

 

5.4 g

 

0 g

 

19 mg

 

23.2 g

 

13.3 g

 

Fiber

 

Protein

 

Sodium

 

Calcium

 

Phosphorus

 

Potassium

 

2.6 g

 

1.6 g 

L

 

3.3 mg 

L

 

16.5 mg

 

41.2 mg 

L

 

134.8 mg 

L