Scandinavian Barley Salad with Apples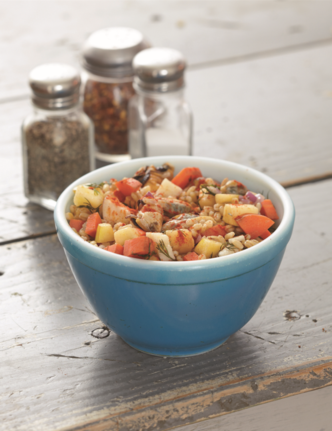 From Get Your Children Eating Right! A 30-Day Plan for Teaching Your Kids Healthy Eating Habits for Life
By Lynn Fredericks – Founder, FamilyCook Productions and
Mercedes Sanchez, M.S., R.D. – Director of Nutrition Education, FamilyCook Productions
Enjoy this recipe for lunch or a light dinner. Mussels are an inexpensive and highly nutritious shellfish that children usually come to enjoy because of their gentle taste. Giving children an opportunity to help clean the mussels piques their curiosity to eat them.
1 cup (200 g) pearl barley
1 large carrot
1 medium turnip
1/2 bunch fresh dill
1 pound (455 g) mussels
2 cups (475 ml) vegetable or chicken broth
1 small red onion
1 medium apple (Golden Delicious, preferably)
1/4 cup (60 ml) extra-virgin olive oil
1 tablespoon (15 ml) apple cider vinegar
Sea salt and freshly ground pepper
Smoked paprika
Additional Cooking Equipment:
Apple corer and segmenter (optional)
Note: Children should use plastic or table knives for all child steps that require cutting or chopping.
Adult Fill a saucepan with 2 1/2 cups (591 ml) water and bring to boil. Add barley, reduce heat, and simmer 15 to 20 minutes, or until tender.
Child While the barley is simmering, scrub the carrot and turnip.
Adult Slice the unpeeled carrots crosswise into 2 sections. Slice each section in half lengthwise, and these halves lengthwise again. You will have 8 lengths of carrot.
Child Line up 2 to 3 carrot lengths and slice them crosswise. Continue until the entire carrot is diced. Add to a large mixing bowl.
Adult & Child Adult cuts the turnip into thin slices. Child cuts each turnip slice into thin strips, rotates the strips, and cuts them into a small, even dice. Add to the bowl.
Child Snip the dill into the mixing bowl with kitchen shears.
Adult Clean the mussels well, removing the "barb" or stringy part. Make sure they are closed or closing to ensure they have not perished before cooking. Place second saucepan over medium heat.
Adult & Child Measure and pour broth into second saucepan. Carefully add the mussels and simmer over medium heat about 10 minutes, or until each mussel opens wide.
Adult Dice the red onion finely and add to the mixing bowl. Peel the apple; core and cut, or use segmenter, into 8 segments.
Child Slice the apple segments in half lengthwise, and then help slice each length into thin slices and add to the bowl.
Adult When the barley is tender, drain and add to the veggies.
Child Help measure the oil and vinegar. Add to the bowl. Mix well.
Adult Remove cooled mussels from their shells and add to the barley mixture. Mix again gently. Season to taste with salt and pepper. Serve each portion with a dusting of smoked paprika.