Tuscan Bean Soup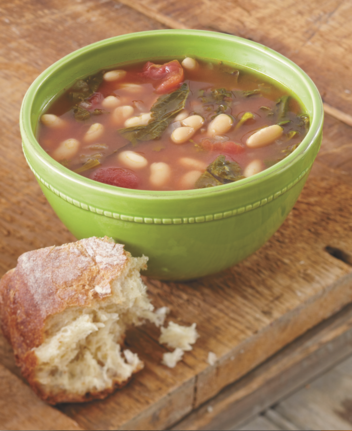 From Get Your Children Eating Right! A 30-Day Plan for Teaching Your Kids Healthy Eating Habits for Life
By Lynn Fredericks – Founder, FamilyCook Productions and
Mercedes Sanchez, M.S., R.D. – Director of Nutrition Education, FamilyCook Productions
One of the most popular recipes in our FamilyCook repertoire, this soup is a hit with all ages. Although you can use any combination of greens, this particular blend gives just the right balance of sweet and bitter.
1 medium onion
2 cloves garlic
2 tablespoons (30 ml) olive oil
1/2 bunch kale
1/2 bunch broccoli rabe
2 cans (14 ounces, or 397 g) white cannellini beans
1 can (28 ounces, or 794 g) whole tomatoes
4 cups (946 ml) chicken broth
3 sprigs fresh thyme
Kosher salt and freshly ground pepper
1 loaf (16 ounces, or 455 g) Italian bread
Note: Children should use plastic or table knives for all child steps that require cutting or chopping.
Adult Slice the onion.
Child Chop the onion into small pieces.
Adult Smash the garlic with the flat side of the chef 's knife to remove the peel and slice.
Adult Heat a large stockpot over medium heat. Add olive oil. When the oil is hot, add the chopped onion and reduce the heat to low. Cook, stirring occasionally, about 10 minutes, or until onions are translucent.
Child Meanwhile, help chop the garlic slices and add to the onion. Help stir for three minutes or until lightly browned or onions are ready, using oven mitts to protect hands from heat.
Child While the onions are cooking, help tear up the kale and broccoli rabe.
Adult Add the greens to the stockpot, increase heat to medium, and stir the greens until they wilt.
Child Help open the cans of beans and tomatoes with a can opener.
Child With clean hands, squeeze the tomatoes into the stockpot.
Adult Drain and rinse the beans in a colander. Add to the stockpot and bring to simmer, cooking 5 more minutes.
Child Help stir while adult adds the chicken broth (using oven mitts to protect hands while stirring).
Child Pluck the thyme leaves from their stems. Add to the pot.
Adult Season to taste with salt and freshly ground pepper.
Adult Cook an additional 10 minutes and serve with Italian bread.