Recap: Inaugural Teaching Kitchen Collaborative Research Day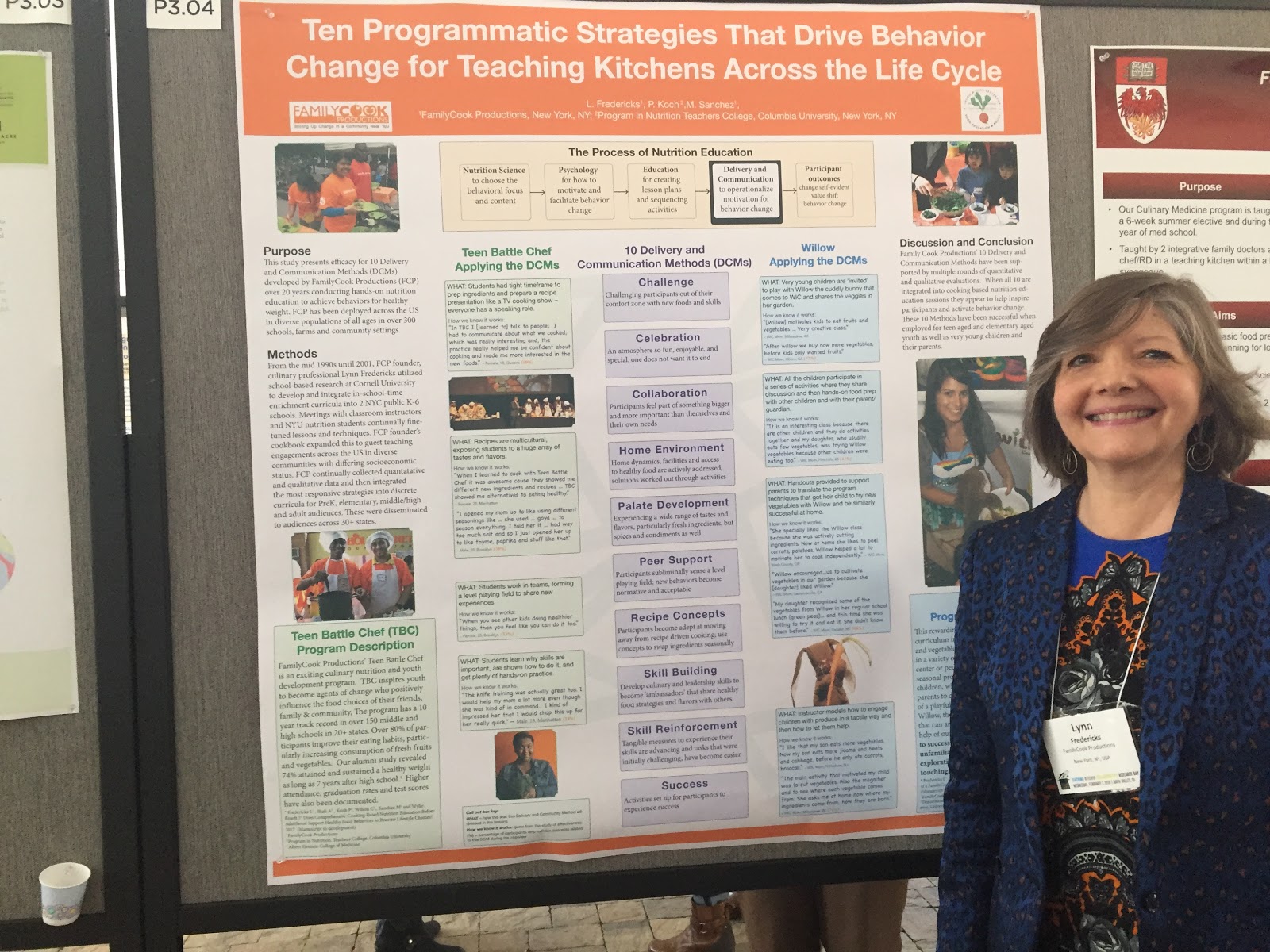 Following the Teaching Kitchen Collaborative Research Day, I was inspired to summarize some of the key ideas and takeaways from the day that might influence how our Teaching Kitchen (TK) colleagues work together to innovate.
For anyone who did not attend the first-ever Teaching Kitchen Collaborative (TKC) Research Day, or is not a member of the Collaborative, the event was a day for Teaching Kitchens to share research and strategies for impacting behaviors, improving health outcomes, and reducing costs. It's convened by leaders of the Teaching Kitchen Collaborative: Harvard TH Chan School of Public Health and the Culinary Institute of America (CIA).
As the TKC event site states, the purpose of the meeting is to 'advance the design, methodology, implementation, and evaluation of replicable programs for individuals with increased cardiovascular risk; along with other populations seeking to enhance their health and wellness.'
As Greg Drescher of the CIA so eloquently put in his welcoming remarks:
"We're here because of our need for unapologetic elevation of deliciousness as a public health imperative."
Over 100 researchers, chefs, food service directors, medical professionals, hospital, university, corporate and military administrators converged at The Estate in Napa Valley to learn from each other.
Lucky enough to be among them, I attended to meet other Teaching Kitchen thought leaders, to learn about innovative strategies from my peers, and to share FamilyCook's findings on Teaching Kitchen strategies that are effective drivers for Behavior Change.
One thing was abundantly clear at the event: TKC members are doing some really cool, innovative things. Here's what struck me most:
 5 Cool Things Going on in the Teaching Kitchen Space
1. Shared Appointments
Could group visits to the doctor foster the positive kind of peer pressure needed for healthy behavior changes? Cleveland Clinic presenters say yes. Their Shared Medical Appointments are breaking through the funding barrier by making all the services included in the shared visits — including cooking classes — reimbursable by patients' health insurance coverage. This is a model that many clinicians will be watching to resolve the critical issue of sustainability.
2. Mobile/Pop-Up Teaching Kitchens
For many organizations, funding, space, and staff are common barriers to establishing Teaching Kitchens. Enter the growing popularity of pop-up TKs.
The VA has found that using wheel carts for pop-up teaching kitchens has not only been effective in changing healthy behaviors in patients — the strategy has helped overcome those common barriers to establishing a TK.
According to Michiel Bakker, Director of Food Services at Google, their 'Kitchen Sync' Teaching Kitchen program started with one pop-up. Now, they have seven Teaching Kitchens, all with the goal of translating healthy food in the workplace to healthy eating at home. They also have numerous pop-up kitchens.
Pop-ups are not only a vehicle for expanding current TK offerings — they can be a cost-effective way to explore viability for a more established Teaching Kitchen at your organization.
3. Unique Environments
One way to engage people in cooking is by providing unique experiences that make them eager to take part.
The Culinary Enrichment program of Regent Seven Seas takes place on a cruise ship. Four of their cruises have Teaching Kitchens on board. As part of their Teaching Kitchen program, cruisers are taken to food markets off-ship, then partake in cooking, plating and eating together back on board. The Teaching Kitchen has become the most popular thing on these four ships, and some cruisers actually book specifically for the learning experience.
A University of Cincinnati partnership with Turner Farm not only provides culinary literacy for medical students (see #5 below for why that's so key)— it provides an enhanced learning environment. Many of the medical students have never been on a farm before, so learning in a Teaching Kitchen built in a 100-year old barn is a rather memorable experience.
This past spring, Boston Medical Center started a rooftop farm …located on the 3rd floor of a power plant. Outputting 4600 lbs of produce and 25 types of crops, the farm fuels a cafeteria and food service to patients. It is also integrated with the hospital's Teaching Kitchen, where foods from the hospital's nutritious Food Pantry are combined with those from the rooftop to teach healthy food selection and cooking skills to patients and employees.
4. Going Digital
While some Teaching Kitchens are leveraging unique physical spaces to create memorable experiences as a means to drive behavior change, others are leveraging – or even living in – the digital world.
Google's workplace Teaching Kitchens aim to go digital in the near future. In addition to their physical pop-ups, Kitchen Sync is exploring sharing Teaching Kitchen videos and live streaming to encourage distance learning FamilyCook has been using similar technology to disseminate our programing to partners around the US; it's a low-cost way to scale up Teaching Kitchen initiatives.
Digital therapeutics mobile apps like FareWell work to treat disease digitally. Patients using the app are in part offered new skills to build health literacy, much like in our physical Teaching Kitchens. FareWell's Clinical Research Lead, Nicole Guthrie, presented a 12 week pilot program that showed high app engagement rates, low app abandon rates, and positive health outcomes for most users. Digital therapeutics may be a real ally for Teaching Kitchens in the journey toward sustained behavior change.
Another digital solution, eButton, has the potential to be used to corroborate self reports among Teaching Kitchen study participants. This wearable computer tracks a healthy cooking score, being innovated by doctoral student Margaret Raber at MD Anderson UT's School of Health Professions, among other healthy behaviors. As we all work to validate Teaching Kitchens as real agents of change in the fight against chronic diseases, digital solutions like this can serve as helpful assessment tools.
5. Culinary Literacy for Medical Students – From Student to Teacher
More than one presenter discussed TK programs that teach nutrition and culinary skills to medical students and future health professionals. The growth in this focus at medical schools is key, as research has shown that we need physicians to validate these behaviors with patients for serious, wide-spread positive health outcomes.
As the Providence Milwaukie Hospital team presented from their Cooking Matters Teaching Kitchen program study, physician recommendation and reminders can greatly contribute to behavior change. The team attributed their high program graduation rates (96%) largely to physician recommendations and reminders.
Another project, Cooking Up Health, a Northwestern University Integrative Medicine elective, trains med students to be the trainer. Med students are taught cooking skills and nutrition for lifestyle change that can later be used to counsel patients. As part of their training, they facilitate a 'train the trainer' model in the Chicago Public School system by imparting skills and knowledge from their course upon student mentors. These young influencers are now armed with culinary literacy that can be shared with peers, their families, and their communities.
Research like this demonstrates the value of Teaching Kitchens aimed at our future medical professionals.
---
There's plenty of work to be done, but that's why I'm so grateful to be a part of this Collaborative Group. I met some truly bright people who I am looking forward to further collaborating with. As the TK Collaborative's founder, Dr. David Eisenberg of the Harvard TH Chan School of Public Health, reminded us:
"A Teaching Kitchen can be described as a 'life skills immersion class' – it's transformative and essential learning for developing and sustaining a healthy lifestyle."
Honorable Mentions
Barilla America is doing great work in supporting cooking skills across the population. And of course the Culinary Institute of America, as co-leader of the Teaching Kitchen Collaborative, is working to innovate the role that professional chefs can play. The work that the UT MD Cancer Center is doing to develop a common evaluation tool for Teaching Kitchens is greatly appreciated. The Turner Farm Foundation is using their farm as a catalyst to healing and human development through healthful, farm-fresh food. VA Puget Sound is supporting veterans with key skills to support their long-term health. And Google's work to instill healthy eating habits in not only among their workforce, but beyond, is admirable.
In conclusion, kudos to Food at Google, Campus for Health, Turner Farm and funders at NIH National Center for Complementary and Integrative Medicine, Dr. Rogers Prize and the Weil Foundation for their support in making this conference possible.