Thai Red Curry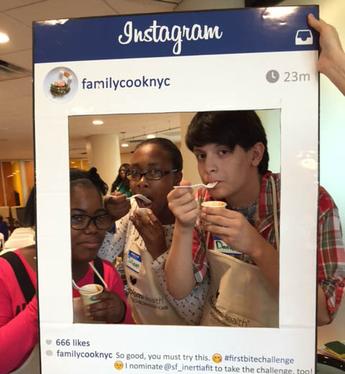 Recipe by ​Teen Battle Chefs at Brooklyn Lab High School
Prep Time: 15 minutes
Cook Time: 20 minutes
Yield: 4 servings
Thai Red Curry: a fragrant curry made from red curry paste and coconut milk teaming with tofu, asparagus, and other tasty vegetables.
1 pound Firm Tofu, drained and pressed for 30 minutes to remove excess moisture
2 tablespoons grapeseed or canola oil
4 small Potatoes, peeled and cubed
2 cups Cauliflower flowerets, small
2 medium Onions, sliced
1 Red Bell Pepper, sliced into thin strips
1 Yellow Bell Pepper, diced
1 cup Asparagus, sliced diagonally in 1.5 inch lengths
4 cloves Garlic, minced
1 inch piece Ginger
1 Thai Chili Pepper
1 small (15 oz) can Tomatoes
2 small (14 oz) cans Light Coconut Milk
1 cup Vegetable Stock
2-3 tablespoons Red Curry Paste
1-2 tablespoons Fish Sauce
1 tablespoon Fresh Lime Juice
4 tablespoons Fresh Basil (to be sliced in ribbons)
1 bunch Scallions
Note: Children should use plastic or table knives for all child steps that require cutting or chopping.
DRY the tofu on paper towels. CUT into bite-sized pieces. BROWN in a skillet over high heat primed with ½ tablespoon of oil. REMOVE when the outside is crisp and the inside is still somewhat soft.
PREPARE the potatoes, cauliflower, onions and peppers as specified above and place into separate bowls.
PEEL and MINCE the garlic and the ginger. SLICE the basil. SLICE the scallions.
HEAT the remaining oil in a large pot over medium-high heat. Sauté the onions until they begin to brown, about 7 minutes; then add the peppers and sauté for 3 minutes. Then, ADD the garlic, ginger and potatoes.
Once the vegetables are browned and softened, ADD the tofu, asparagus, and all other ingredients except basil and scallions. BRING the mixture to a boil; REDUCE to a simmer and COVER.
After 5 minutes, REMOVE the lid and check the flavoring. If you need to add more spices, do so now. Continue to SIMMER the curry with the lid removed until the ingredients are fully cooked and the liquids have thickened slightly. SERVE topped with scallions and basil.