Turn food explorations into a taste test with children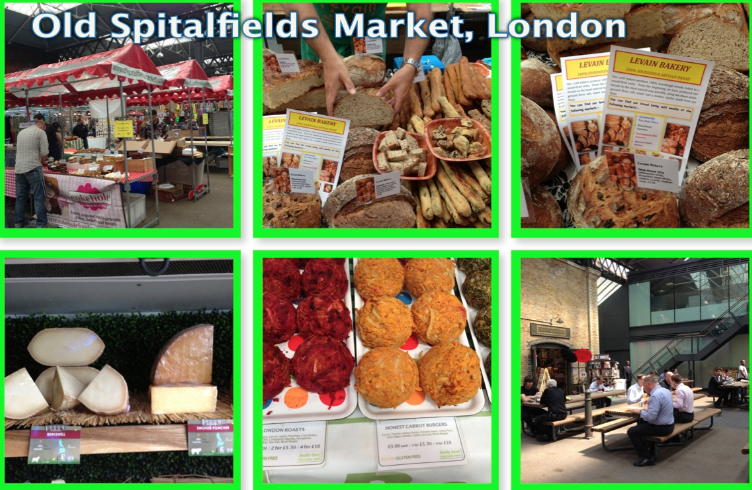 Turn food explorations into a taste test with children
I was in London this summer visiting my close friends, meeting with my English publisher, and looking for things that were new and different. My plan was to purchase things to bring back to Emma, my English friend's 9-year-old daughter, so we could taste and rate them together!
Wherever I go, discovering new food markets and neighborhoods are always high on my 'to do' list. When in London, I met with my Les Dames d'Escoffier colleague Valentina Harris, from our London Chapter, and she encouraged me to check out Old Spitalfields Market in the East End. I realized I was headed somewhere interesting by the stylish (Ted Baker) and edgy (men's waxing) shops along the walk from the subway. Then I arrived to an impressive, airy and lively market with tables of food and artisan vendors. Along the periphery were brick and mortar food shops. The mixture of clothing and accessory artisans to food was very dynamic, and the actual stores and restaurants all had café seating out in the market as well as inside. There was a LOT to explore; I found myself circling the market a few times, each time discovering something different and intriguing. But what would be fun to try with Emma?
English cheese with very intense flavors…
I could not resist Androuet cheese shop, a highly acclaimed establishment renowned in Paris for over a century. Two sons in the youngest generation of the family came to London and have carried on the family tradition of offering selections from small producers who specialize in raw milk cheeses, over 80 seasonal selections. To supplement their French offerings, the young owners have partnered with Paxton & Whitfield for quality English producers. The owner, Alex, was terrific in assisting me on their local selections, and I settled on a cow's milk Smoked Poacher cheese from Lincolnshire and a raw sheep's milk cheese called Berkswell from the West Midlands.
Artisan breads – so difficult to choose…
With my cheese purchase completed, I was looking for a worthy companion for them. I didn't have to go very far to spot a vendor table with a vast array of artisan bread. Levain Bakery bakes 100% sourdough breads in a wood-fired oven. They use the finest quality stone-ground flours and their sourdough starter uses rye flour. I have lots of rye sourdough bread options that I like in New York, but have not found that many multi-grain breads that really taste great, so I chose that to pair with the cheese. I thought that for our taste test, Emma would like a bread with a subtler flavor that wouldn't overpower the cheeses.
Taste testing with young Emma
When it was time to taste the cheeses, Emma (who really loves cheese in general) got out the cheese board and starting arranging them as I cut up the bread. Emma considers it her role to set up the cheese board after dinner to see if her family might like some cheese after dinner. She loves the arranging and ceremony of it and the fact that her mother lets this be her 'job'. But for this occasion, Emma and I were going to have our special taste test first and then share with the others. As much as she likes cheese, she was hesitant when I said one of the types were smoked. We agreed that since there were only two to taste, we could each decide which one to try first. I went for the smoked and she went first for the Berkswell. In the end, I really preferred the deep smoky flavor of the Smoked Poacher and she liked the Berkswell, the texture was a bit creamier. This cheese tasting was really fun and she loved the fact that I was sincerely interested in her opinion!
In our book and our school program we offer lots of taste tests as just one way to empower children to explore new flavors; they take the lead and because it's a tasting, they know it's 'on the table' to not like something!