"Cooking Buddies" Enhance Program Impact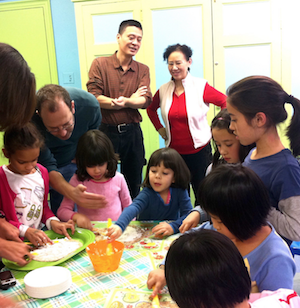 "Cooking Buddies" Enhance Program Impact
In our 20 years of teaching cooking as nutrition education and family therapy, we've found that mixing ages can offer extraordinary group dynamics in the classroom and at home.
Throughout the school day, children are grouped by their age and abilities. But, when it comes to cooking, there are at least 3 major benefits to assigning tasks by level of difficulty for participants of different ages. This can be accomplished in after school settings, community settings, and certainly in the social services setting.
1. Engagement flourishes with age-appropriate roles.
Parents may be hesitant to invite children into the kitchen if they are unsure how to do so safely and efficiently. Understanding this reality, we build the class experience to highlight appropriate roles and tasks for different ages. By aiming for 'aha' moments in each session, parents know just what to do when they get home with each child. This really alleviates parents' fears because the class shows them how each child can contribute in an authentic and non-chaotic way. Three year olds, for example, can tear up greens and lettuce, while a third grader grates potatoes. Adolescents can be taught to use a chef's knife and become the family meal sous chef, which makes scratch cooking for parents a breeze. But, the value of combining ages in the class setting extends beyond identifying appropriate tasks for each age.
2. Bonding.
After 20 years of program development and supporting our affiliates across the US, it's evident that people love to cook together.  Cooking creates a common bond with little ones looking up to older siblings or schoolmates. Adolescents and elementary aged children are equally enthusiastic and proud to be able to support younger children make a solid contribution to a shared meal. There is a huge win-win opportunity created by acknowledging that everyone – regardless of age, has something valuable to contribute.
This point was brought home when our FamilyCook Productions founder, Lynn Fredericks, first began cooking with her own children who are 6 and a half years apart in age.  Back in the 90's when Stephan was a toddler in the kitchen, nLynn took great pains to make sure he had a very defined role with each recipe, so that he would not feel eclipsed by his older brother. Such role designation plays out similarly in a program setting, where children in each age group take their cues from their peers and know their role well and take pride in it.  Everyone contributes based on their ability and everyone shares in the sense of accomplishment.
3. Practice in class makes for success at home.
Apart from parents with twins or triplets, most parents don't have all 3rd graders at home.  By practicing age specific roles and tasks in a mixed age class, family members return home with an understanding of the boundaries around their capabilities and know when to ask for or offer help.  This is an essential development for harmonious family cooking.  If little ones are determined not to ask for help and frustrate parents with their insistence to do tasks inappropriate for their age and ability, parents will not feel motivated to continue to cook with then. It's really that simple. The class experience should set the parameters in a positive way that celebrates every participant's contribution. Both parents and older siblings experience the satisfaction of assisting younger family members to help. With each accomplishment the group cheers for the youngest helper's culinary success.
This is how youth in Teen Battle Chef across the US approach their growing interest in cooking at home. They have learned so much in the program midway into the semester that they are assigned a family cooking activity designed to include ALL family members. Each Teen Battle Chef knows exactly how to safely engage each participant based on their age and ability. The result is a successful demonstration to their parents that cooking can be a happy, delicious and nutritious family affair.
Stay connected with us! Find out what the New York Times had to say this month about our award-winning programs. Sign up for our mailing list, and check out our latest book!