Why Food Enhances Learning in School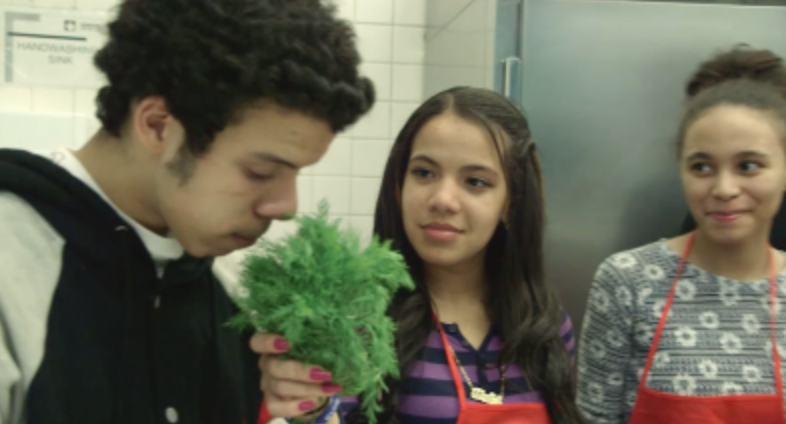 Why Food Enhances Learning in School
Thursday, 22 October 2015
Guest
3436 Hits
We all learn new skills differently. Some of us learn by listening, while others learn by doing. Most of us learn best with a combination of learning methods. Food, with its numerous multi-sensory properties, is a fantastic tool to enhance learning about anything.
Since we began to pioneer hands-on nutrition education 20 years ago, we became curious about why food could effectively convey complex ideas. For example, third graders grasped very abstract concepts about Japanese culture after performing the Japanese tea ceremony. We asked ourselves, what exactly is going on that makes learning 'stick' so well when food is involved? We began researching what the brain needs to learn. What we found is five ways that food can enhance the brain's natural learning mechanisms. Not just by eating it, but by looking at it, thinking about it and preparing it through cooking.
1. Food Engages the Brain
It's been long established that multisensory learning is an effective technique to help students retain new information. We use cooking as a means to teach nutrition because it engages all of the human senses, and is an ideal activity to support multisensory learning of new information. But what we've found is that learning through cooking goes beyond seeing, smelling, touching, hearing and tasting the food. Where the senses originate in the brain also have an impact on our ability to absorb new information. The part of the brain that processes our sense of smell is directly connected to the part responsible for memory and emotion. This is why a familiar smell can trigger a past memory or strong feeling. The same can be said for taste,which is largely dependent on our sense of smell. What's interesting is that auditory and visual information don't pass through these same areas. When applied to pedagogy, this suggests that engaging smell and taste can better support learning than the traditional ways of teaching auditory and visual information.
2. Food Sharpens the Mind
As it turns out, peeling a pound of carrots may stimulate the brain's natural learning processes. The human brain learns best with repetition, especially when an activity is repeated with the right frequency, intensity and duration. Cooking has its own set of methodologies, like preparing a mise en place of ingredients before sauteing them. In nour programs, we've found that repetition encourages students to think logically and independently about the next steps in the process. "I've observed many young children memorize how to cook a recipe from start to finish, and be able to repeat it at home from memory." says Lynn Fredericks, FamilyCook Productions' founder, "Many tasks in cooking are repetitive, and repetition is so integral in how children learn."
3. Food Makes Learning Fun
We'd all learn new things more easily if we were in a fun, relaxing environment. Neuroscience research shows that students achieve higher levels of cognition when they're more engaged, motivated and feel minimal stress. This doesn't always apply to traditional school settings and directed lectures. Bringing food into the classroom is a unique way to engage students and break up the monotony of sitting and listening.
4. Food Supports Collaborative Learning
If cooking is done collaboratively in a group setting, it provides another dimension for learning. Collaborate cooking applies the principles of cooperative learning, where students work as a group to help each other accomplish a task. Cooperative learning is effective because students can observe their peers and correct themselves if they're completing a task ineffectively. In fact, we've found that cooking classes taught in group settings require less didactic instruction from the teacher. This translates to less required time and resources, because the brain's natural learning mechanisms are more efficiently utilized.
5. Food Is Relevant
One reason that students lose focus in the classroom is that they don't feel like the concepts are relevant to their lives. Food can help abstract concepts come to life. At Manhattan International High School, we've partnered with their 9th grade math teachers to teach statistics within the context of food. In one assignment, students take on the role of a food critic by rating their recipes for taste, and then charting the statistical average of these ratings over time. Food engages the students and utilizes all of their senses, while cooking supports collaborative learning and repetition. This provides new dimensions to teach math concepts, both in and out of the seat.
For more brain-boosting best practices, sign up for our mailing list. And click here to learn more about our award-winning programs.
Written by Bobby Maknoon, dietetic intern at City University of New York.