Celebration: A Driver of Behavior Change for Healthy Eating Patterns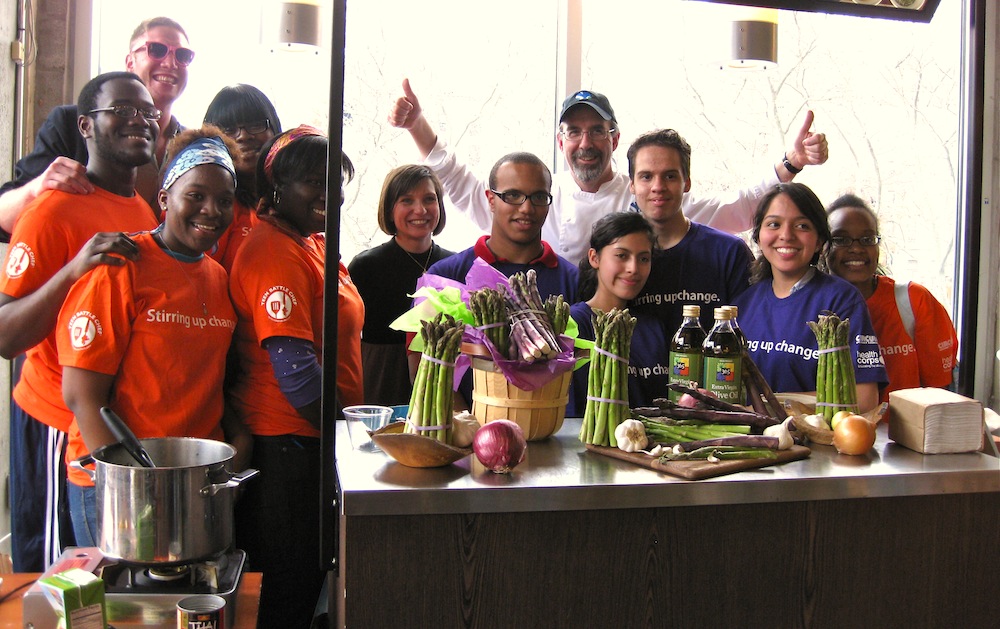 This is the first article in a new series to illuminate key 'drivers of behavior change' around healthful eating. After 20 years of designing, evaluating and retooling curriculum to increase successful behavioral outcomes among all ages, we have identified 10 distinct behavior drivers. We are currently investigating these 10 drivers in a new study in collaboration with Columbia University's Teachers College, Program in Nutrition. Our goal is to open a new area in the scientific literature that illuminates successful delivery and communication techniques. Over time as other practitioners and researchers add to this body of research, we can achieve consensus about what constitutes effective Teaching Kitchen curriculum.
Which of the cooking class descriptions below will draw more response?
A Healthy Cooking Class to Teach Successful Diabetes Management
or
A Global Cooking Adventure, One Delicious Recipe at a Time
No contest right? The first one implies you have work to do, while the second one promises pleasure through exploration.
It's not news that cooking can be fun, yet as we collaborate with our partners, they want to know WHY our approach is so successful.  While all our 10 'drivers of behavior change' each play a pivotal role in program success and are not created equal, the concept of celebration is absolutely essential.  No matter if it's a WIC parent and child, a child at a YMCA after school, a Teen Battle Chef in high school or an adult learning to eat differently to manage their health – the very first session they experience had better hook them through a celebratory atmosphere and enjoyment.  
My first awareness of the importance of the experience of sharing food was a defining moment. Back in the early 90s when I was a food and wine journalist, I was soul-searching after my divorce and questioning whether writing about food was a worthy career to continue to pursue. I was searching for meaning and purpose after the end of my marriage, as I faced raising my sons on my own.  The defining moment for me came at the Pierre Hotel as the guest at an Austrian Pastry event for food journalists. The presenter declared "we have a saying in German that I can translate for you, food and wine are the 'glue' that hold the body and soul together." They combine to create a nourishing experience for mind, body and spirit.
I will never forget that concept. It explained to me exactly WHY teaching about food was a worthy pursuit.  I recognized that a happy and healthy person was one where the body and soul were well aligned, and that food played an essential role in making that happen.
My take away from that event was an understanding that food, the actual physical substance – was not the whole picture. The context of HOW we enjoy food was as important as what we are eating. Hence as my career took me from food journalism to education, I endeavored to create a convivial atmosphere for every program developed by FamilyCook Productions. And that is no less true today.  In any given program session, we layer a multitude of stealth elements that combine to create that sense of celebration.
As one of our Willow (preschool) program instructors said,
"The celebration aspect is really important. This emphasis on fun, on being playful helps everyone want to try something new and makes it safer."
An 'experience' is achieved that brings smiles, joy and a feeling of pleasure resulting in participants' excitement to return the next time.  
---
To learn more about our evidence-based Teaching Kitchen programs, visit our Teaching Kitchen page or email me at lynn@familycookproductions.com.