Warming Winter Minestrone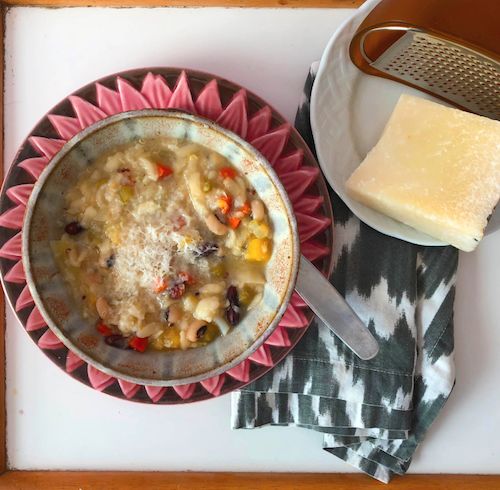 Warming Winter Minestrone
This is a delicious winter soup that cooks in an hour, yielding a thick texture and delicious melding of veggies. The cheese offers just enough additional flavor richness. A good way to get many vitamins and fiber into your family's diet, you will find all the fresh ingredients in your supermarket through February.
Winter Minestrone
Recipe by Lynn Fredericks
Serves 6-8 adults
Ingredients
2 cups chopped Cabbage
1 cup chopped Cauliflower
1 cup diced Butternut squash or Pumpkin
½ cup diced Onion
½ cup diced Carrot
½ cup diced Celery
½ cup mixed dry Beans (French lentils, split peas, yellow lentils, small navy beans, barley, or use 1 cup Trader Joe Harvest Grains blend. Note: if using dried beans that requires longer cooking time, soak these in cold water overnight and drain before using)
1/3 pounds small Macaroni
¼ cup grated Pecorino or Parmesan Cheese
¼ cup extra virgin Olive Oil
2 quarts water
Directions
1.  Combine all the ingredients in a pot.
2.  Set over high heat to a boil. Reduce heat and simmer for 60 minutes. The finished soup should be very thick.
3.  Season with sea salt and serve hot with additional cheese.